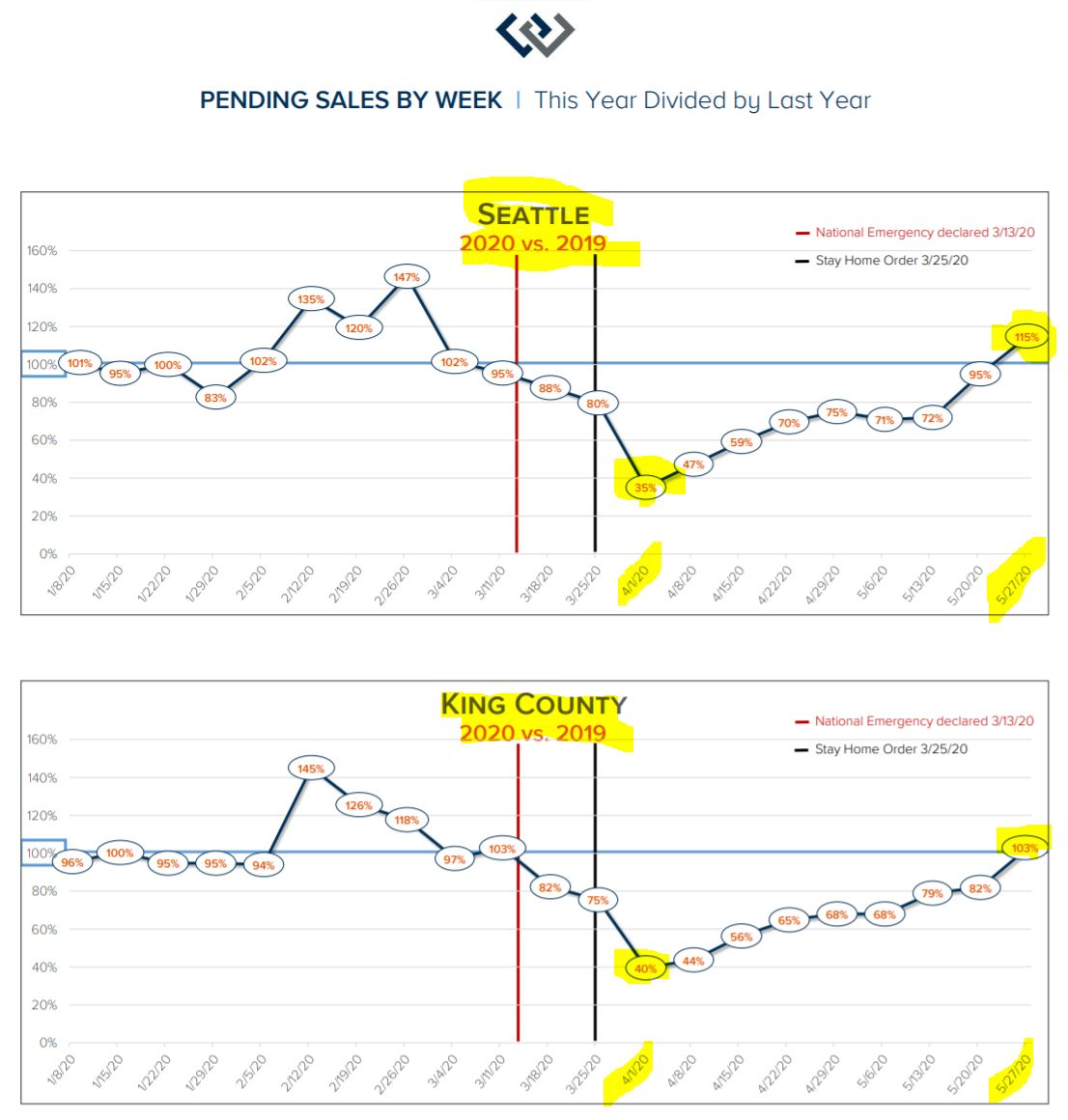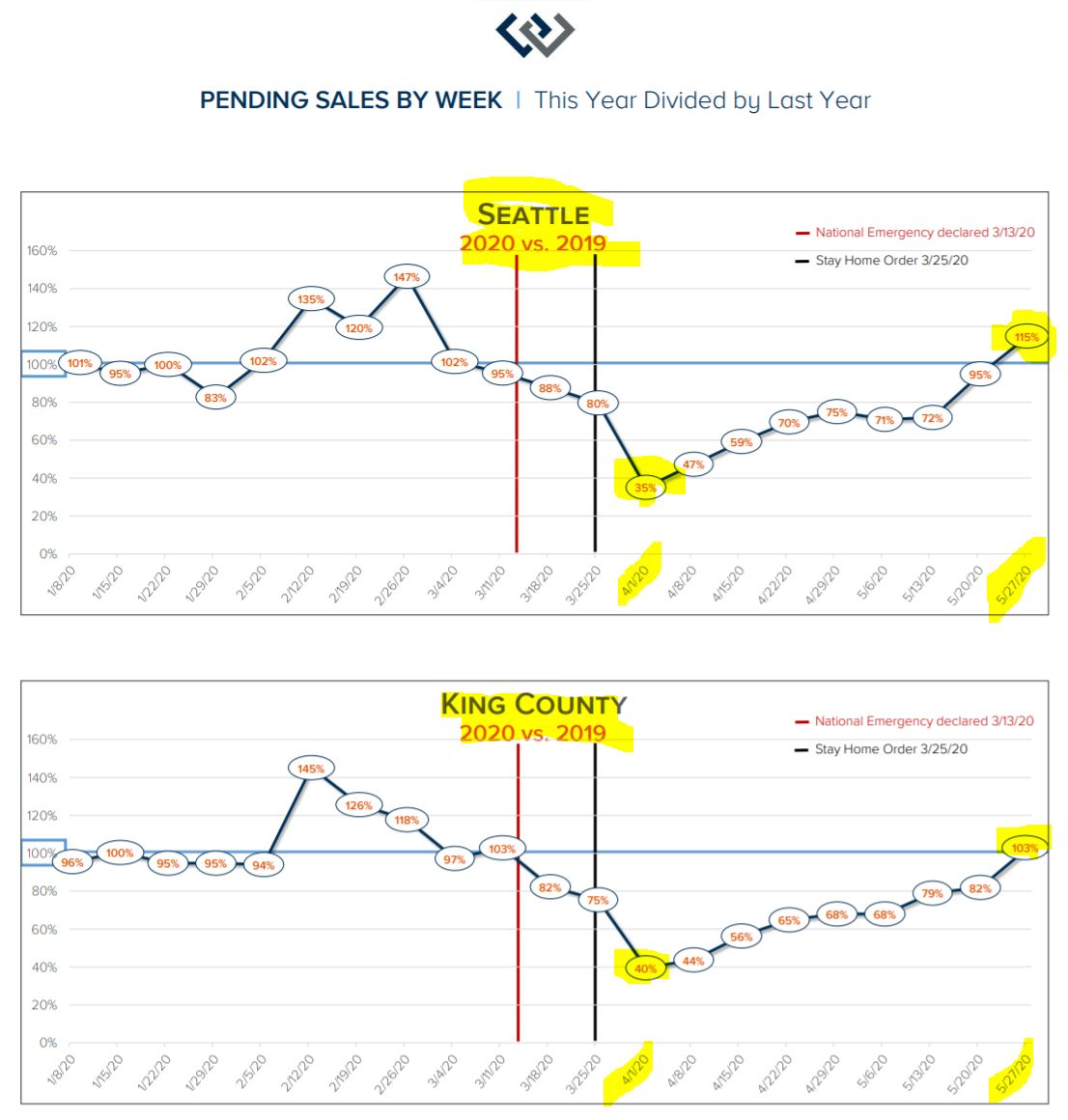 I'm still amazed at the residential housing market's resiliency through all that his happening in our economy.
Cliff notes below from our designated broker, Laura Smith –
Expect more new listings. Expect more new pending sales. Historically March to July are the five months with the most new listings (10 year average for King County Residential shown in table below).  The coronavirus likely delayed new listings by 45 to 60 days. What will happen with more new listings?  More new sales. My guess is starting in July number of sales in 2020 will exceed the number of sales in 2019. 
King County Residential Only for the weeks ended Wednesday (5/27/20):
Summary (details below):
The number of new pending sales in the last seven days exceeded the same week in prior year.
Expect next week for sales to be between 80% and 100% of the prior year.
Memorial Day under the stay order had less impact on sales than Memorial Day with no stay order.
Number of King county pending sales increased for the last nine weeks:266, 309, 367, 460, 489, 508, 598, 622, and 645.
We need inventory! Inventory is down over 40% and sales are equal to a year ago.
Months Supply of Inventory is low enough to make multiple offers commonplace:
King County is 0.9 > down 40% from a year ago (1.6).
Seattle is 0.9 > down

53% from a year ago

(1.9).
Eastside is 1.0 > down 50% from a year ago (2.0).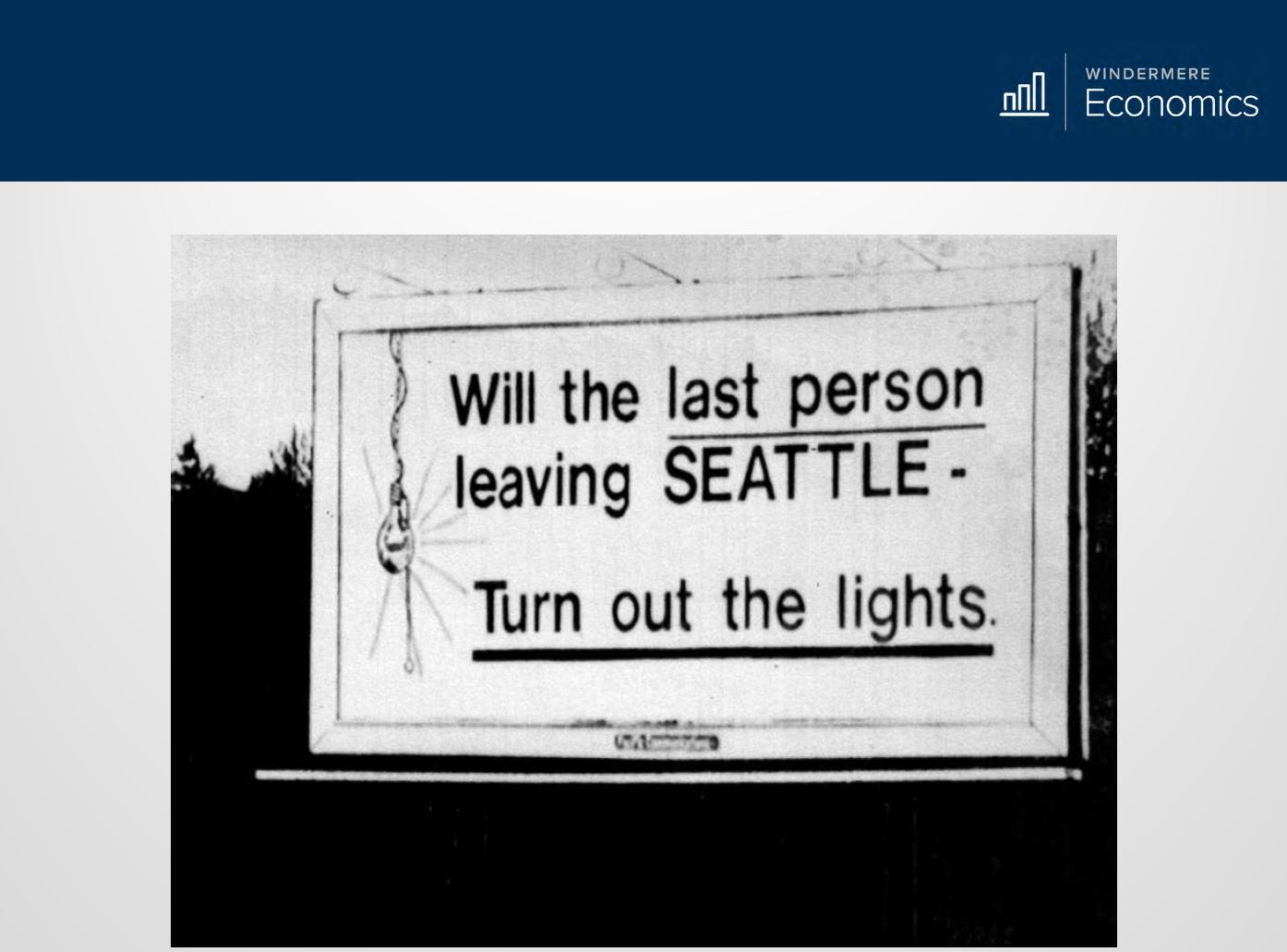 I was able to listen to our chief economist for Windermere yesterday for his annual economic forecasts heading into 2020. The slides below illustrate his forecast for the Seattle area moving into 2020. #realestateislocal 
Matthew Gardner, while being one of the brightest minds in our company, knows how to deliver a message.
We all know that most economist are calling for a national recession in the not too distant future. But most are now pushing back for this to begin in mid 2021, be short lived and not focused on the housing market like the great recession.
Matthew feels the next recession will be due to the ongoing trade wars with China and the EU as well as our escalating national debt. With interest rates already at historic lows, the Fed will NOT be able to help end the recession by lowering rates.
But the Seattle area will be somewhat insulated to these national issues in the coming years, here's why…
We're no longer a one trick pony. Like when this sign from 1973 went up during a Boeing slump. Seattle's industries have diversified. There are now 34 Fortune 500 companies in the Seattle Area compared to 7 just a few years ago! Boeing is still king with over 80,000 employees in the area but their ups and downs don't threaten the Seattle economy like they did not too long ago.

The tech industry is the largest employer in the Seattle Metro area and have driven our unemployment #'s down to 3%.

The other employers to round out the top 5 for the Seattle area are JBLM, Joint Base Lewis McCord (56,000), Microsoft (42,000), Amazon (25,000) and UW, University of WA (25,000). A healthy mix of different industries that are projected to grow their employment by 2.2% next year, again leading the nation.

All of these growing companies in the Seattle area are why our economy will continue to expand through 2020.

There is still no signs of a Housing Bubble.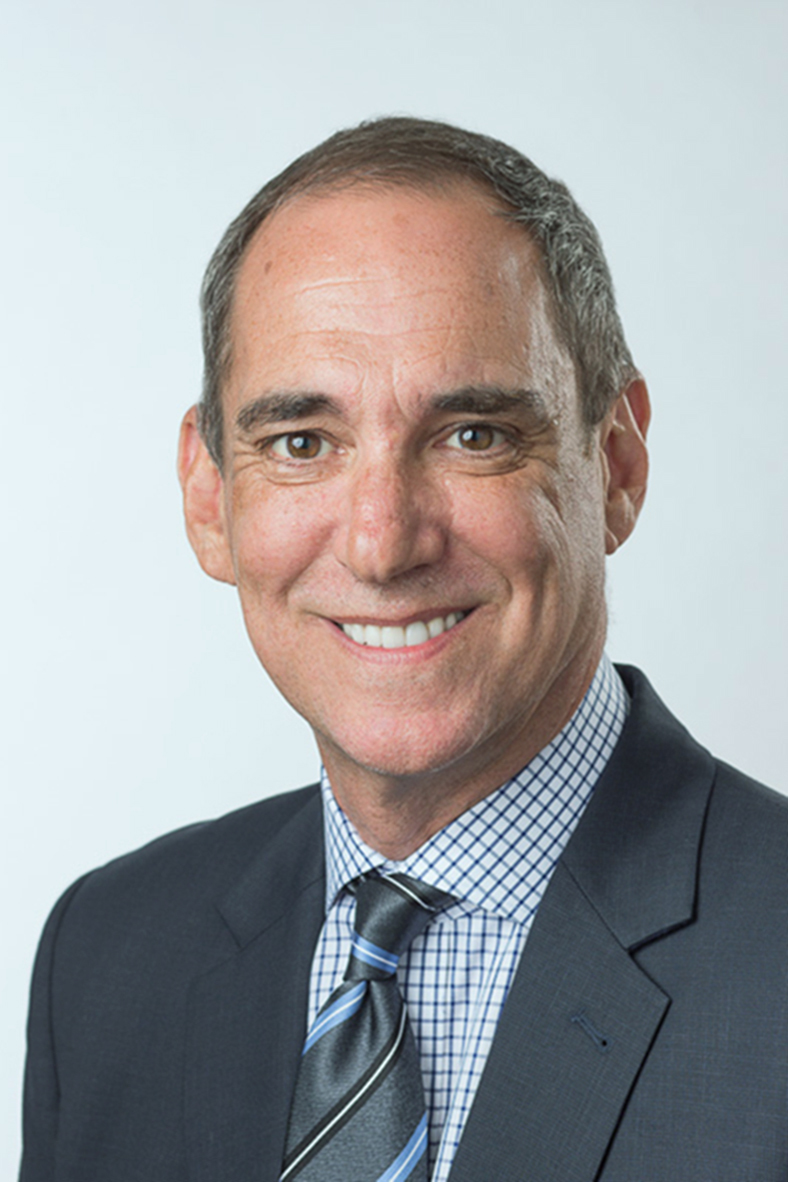 Our esteemed economist, Matthew Gardner, has released his 3rd quarter assessment of our Western WA real estate market. Enjoy!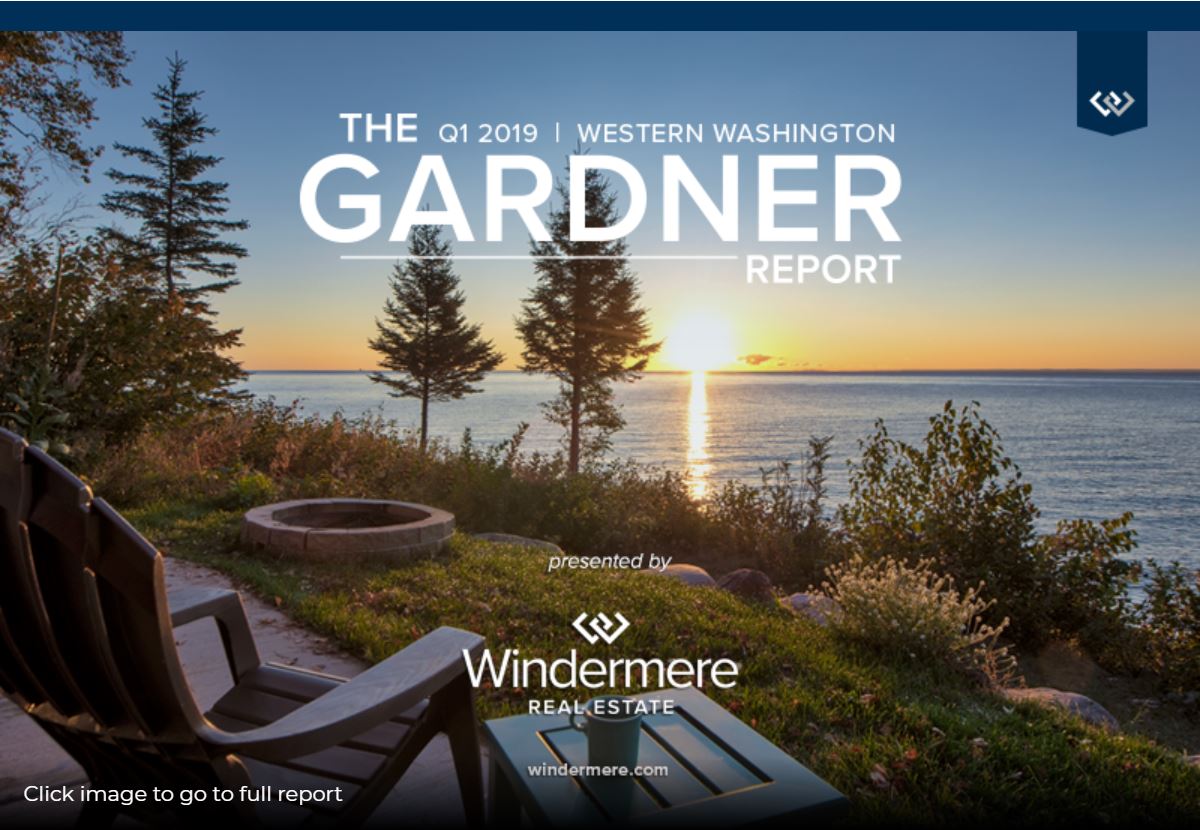 The Gardner Report will tell you what's happening in WWA real estate and a forecast for 2019.
The other graphs show you how the Seattle real estate market is trending for Q1 of 2019.
Some of the hotter neighborhoods are seeing over +15% price appreciation Feb to Mar 2019.
But most economist don't feel we're returning to the craziness of the last few years.
A much more manageable growth rate moving forward for Seattle, that's nice for everyone, buyers and sellers.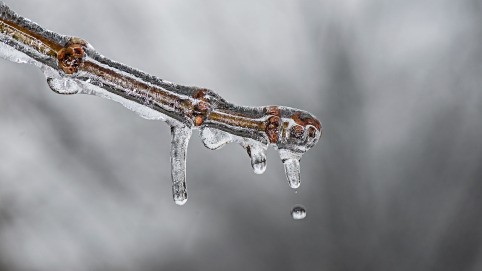 Here are a few thoughts about melting snow, possible water intrusion and houses from Don McFeron at Scout Building Inspections:
"Gutters and downspouts full of snow and ice can back up if it starts raining before the snow and ice melt.
Water backing up in the gutters can be a real problem if you have a house without much of a roof overhang, because instead of wetting the soffits, it can get into the walls.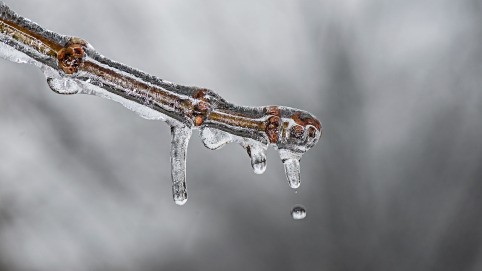 Roof downspout in-ground drains can ice up, and then the water coming down the downspouts can spill out next to the foundation. If the house has a finished basement, the water next to the house could get into wall cavities through the footing-to-foundation joint, and any through-wall penetrations or cracks. Make sure that water coming out of the downspouts runs down into functioning in-ground drains, or route the water on the surface far enough away from the foundation that the water cannot run down next to it and get into the basement or the crawl space.
Snow in a basement window well can get up against the windows and window trim. When the snow melts it could get in through small gaps between the windows and trim.
Water from melting snow that has piled up against a door can get in through weep holes and weather stripping as it melts.
When you shovel a walkway, be careful to not pile the snow up against the side of the house.
Snow on a roof can get up under the flashing around skylights, chimneys, plumbing vents, attic ridge vents, etc. Pretty much all of the flashings and roof boots are designed to protect against water that is flowing down hill. Blowing snow can get under the edges of flashings or pack in around them and then drip down behind them as it melts. Usually the amount of water would not be noticeable, but in a situation where there are several inches of snow followed by a quick melt and a lot of rain, it could be a problem.
I cleared the snow off of my roof top deck tonight because the snow was deep enough that when it melted it could have gotten up under the siding, through gaps between the door to the roof or through perimeter flashings and into the house. The through-wall drains were packed with snow so that water may not have been able to drain through them.
Keep dry,
Don"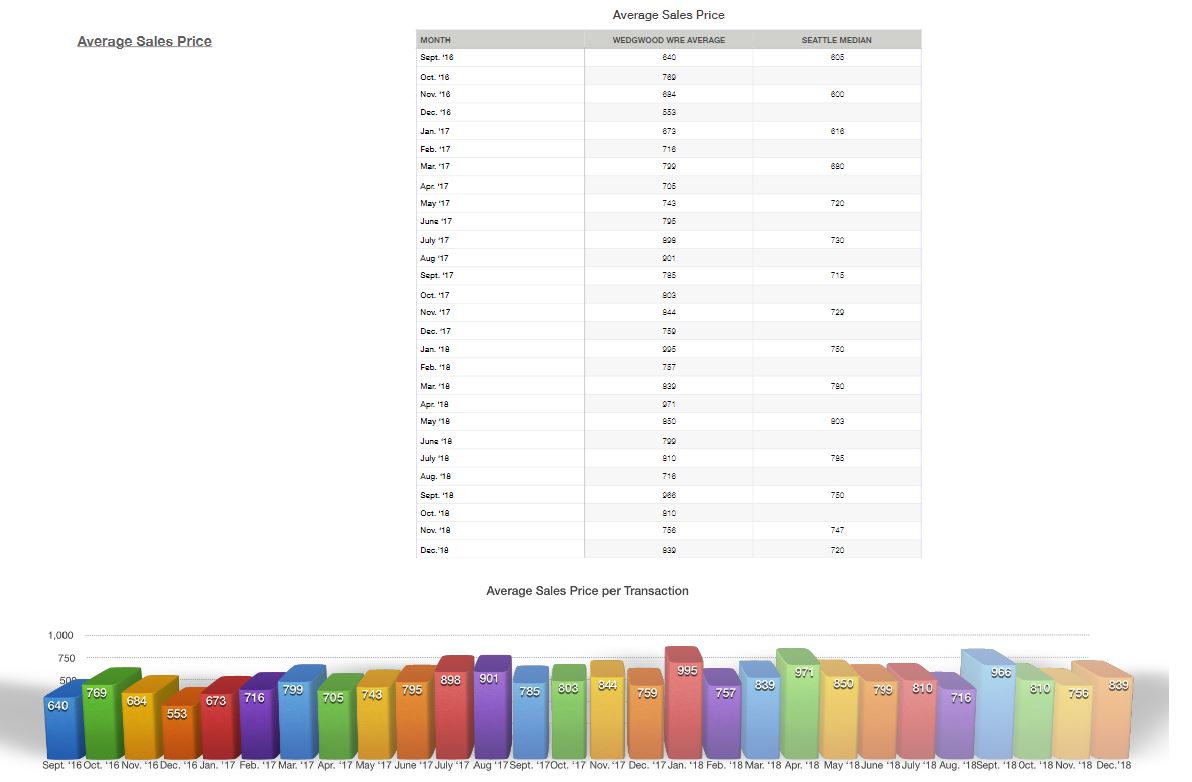 My office, Windermere Wedgwood, publishes statistics for the transactions that we represent each month.
These statistics dive deeper than the basic info you get from online sources.
The pack below shows transaction details like type of financing, cash offers, # of offers and the one I find most interesting this month, median sold price.
The median sold price for the 16 transactions completed by my office in December 2018 was $839k vs. $759k from Dec. 2017 or +10.5%
Even with the Seattle Times headlines about Seattle's rapid decrease in prices, the numbers don't lie, +10% vs last year!
https://1drv.ms/b/s!AlaUpVIy4kt9ge4Fxw5kVih5A4RrJA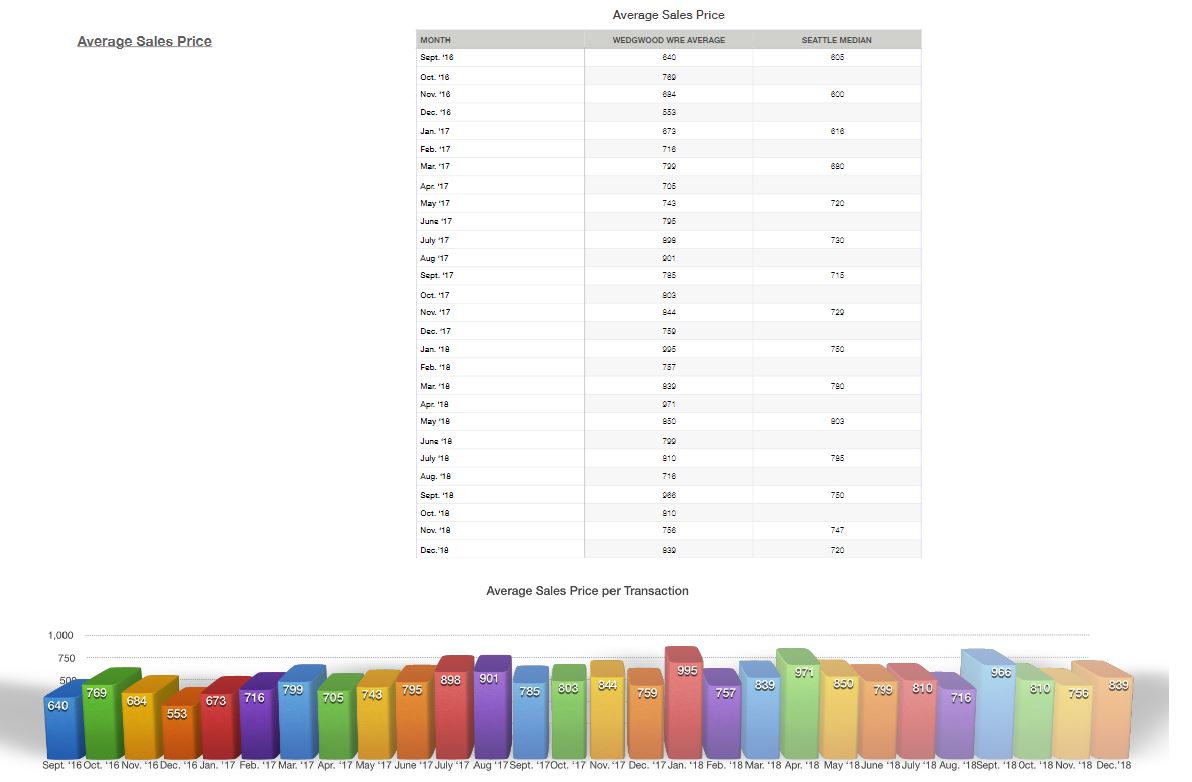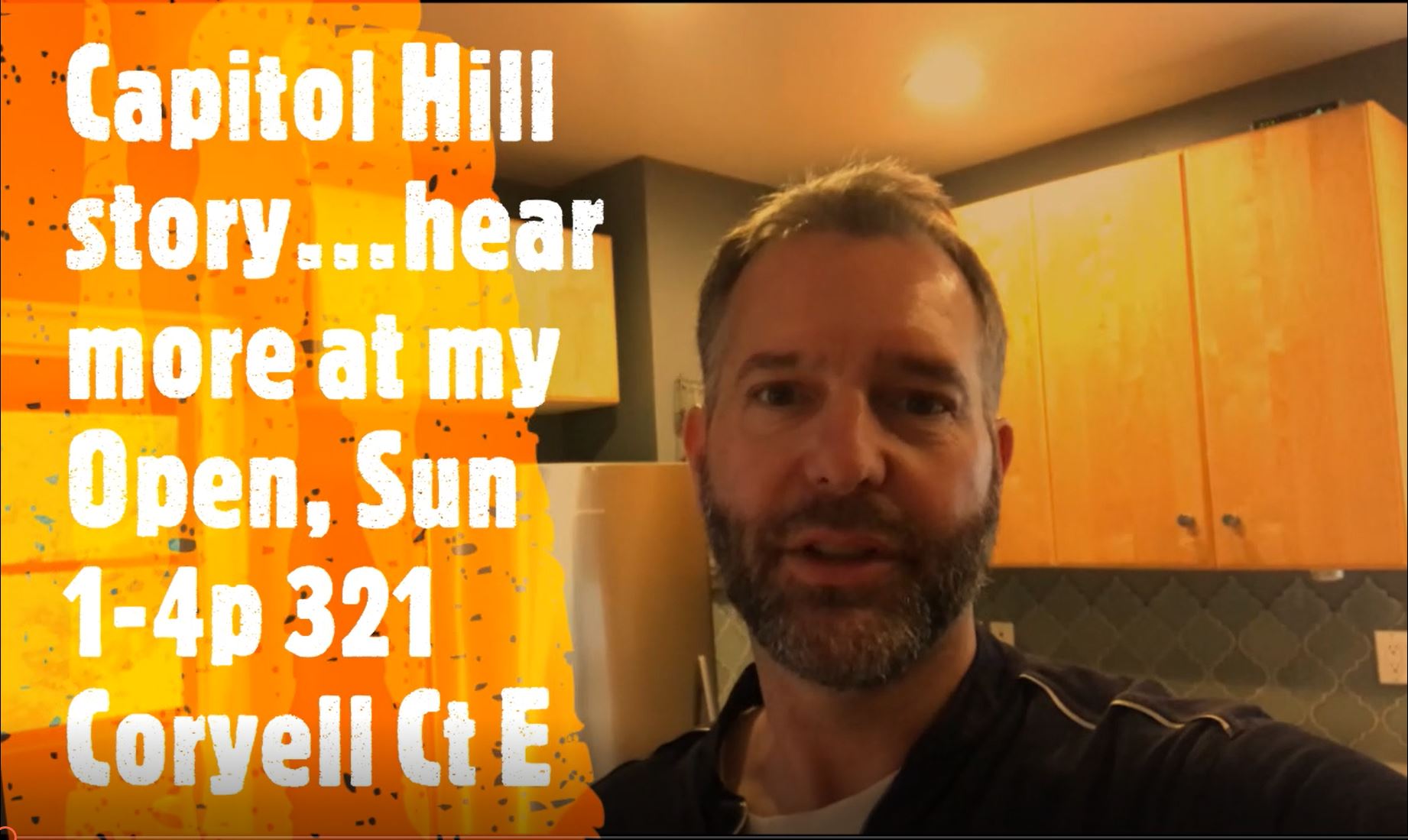 Come hear more of the story at my Open House this Sunday 1-4p.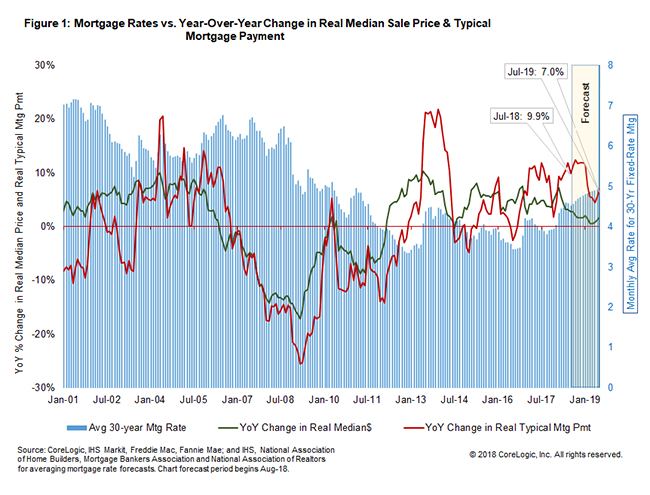 My list for what's driving the Seattle housing market: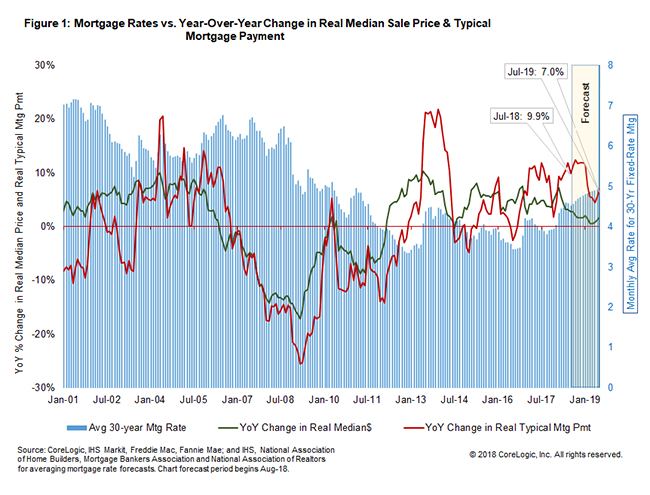 * Mortgage Rates will climb when Fed raises prime rate early 2019.
* Amazon announces HQ2 location(s), will Amazonians move? Not likely, Seattle is still one of the most desirable cities in US for tech workers.
* Facebook just announced, increasing office space in Bellevue + S. Lake Union.
* We have 34 Fortune 500 companies in Seattle, was only 7 in 2010! 
* Seattle will still be hiring moving into 2019. We're more than just Amazon.
* Home Prices will continue to increase at new slower rate but Still Increasing.
Because of all of these reasons, I think the Seattle housing market will continue to grow and appreciate.
So, waiting for prices to drop is a long shot and the wild card of increasing Interest Rates will lower buyer's purchasing power next Spring.
We know where we are now, the future is a gamble with so many variables.
This is why buyer's should purchase this winter in Seattle.
RBJ.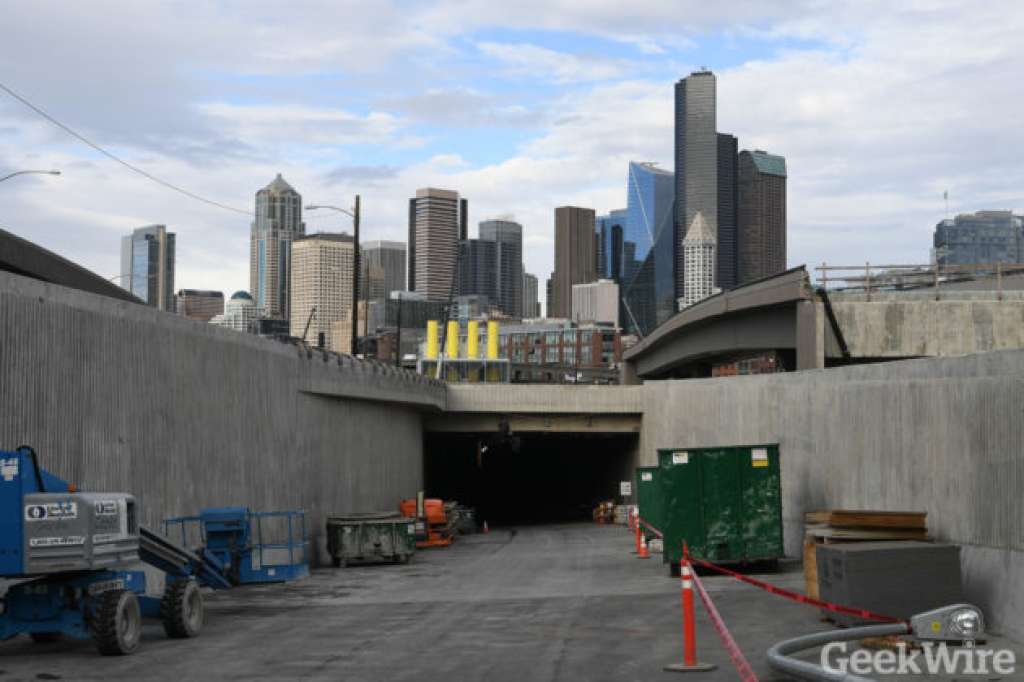 Seattle still at the top for Rental cost, #3.    
We've had a big runup for Rents over the last few years because of a lot of population growth and a shortage of rental units.
While Seattle is the 3rd most expensive city in the US to rent, median is now $2600/month, our rents are not increasing as quickly anymore.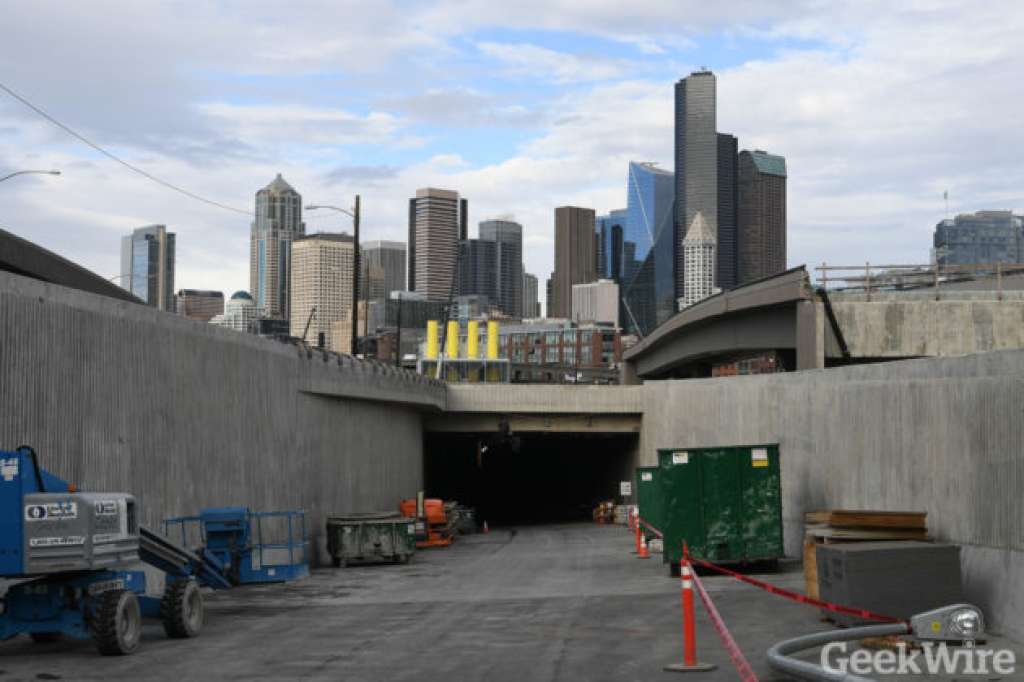 This is good intel to have for investors and potential buyers waiting on the sidelines to buy in Seattle.
Most economist point to all of the building cranes around Seattle that are flooding the market with new rentals.
This is true but these new rentals are coming on in the upper end of the market so there is and will still be a shortage in Seattle of affordable rentals.
As with our housing prices, things are still rising just not as much as the last few years.
This fact along with the uncertainty of interest rates rising as well, this winter could be the best time to get into the Seattle real estate market.
If you're waiting for prices to actually decline, for renting or purchasing, it doesn't look like that will be happening in 2019.
But the slowdown in price appreciation this summer and fall has created a good opportunity to enter the hot Seattle market during a "pause" in the frenzy.
Goto SeattlePI for the complete list/story.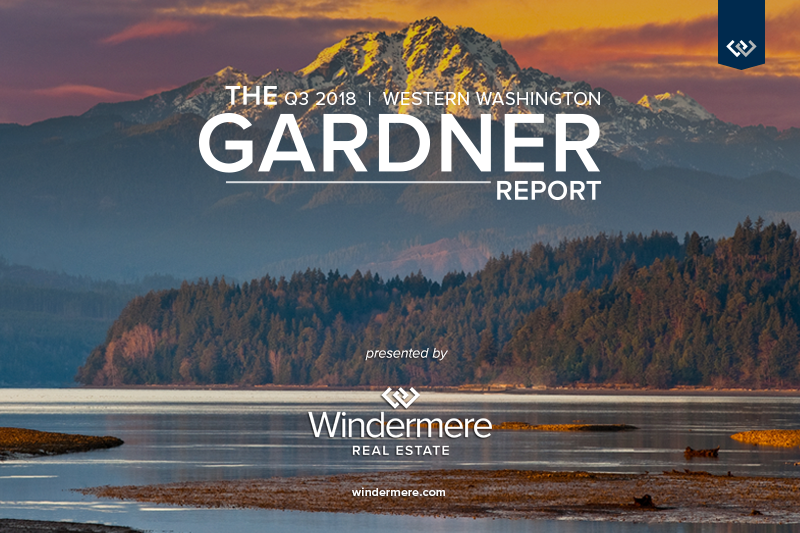 All things real estate in Western WA from our own Matthew Gardner.
Posted in Western Washington Real Estate Market Update by Matthew Gardner, Chief Economist, Windermere Real Estate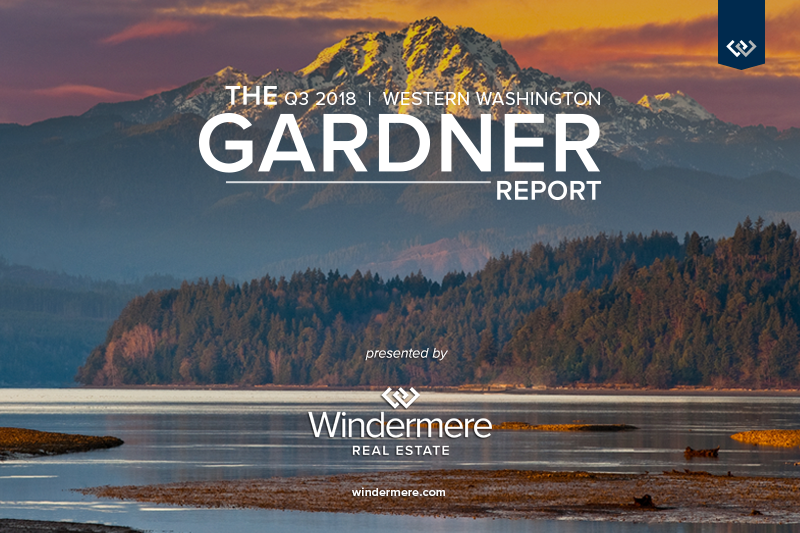 The following analysis of the Western Washington real estate market is provided by Windermere Real Estate Chief Economist Matthew Gardner. We hope that this information may assist you with making better-informed real estate decisions. For further information about the housing market in your area, please don't hesitate to contact your Windermere Agent. 
ECONOMIC OVERVIEW
Washington State continues to be one of the fastest growing states in the nation and there is little to suggest that there will be any marked slowdown in the foreseeable future. Over the past year, the state has added 105,900 new jobs, representing an annual growth rate of 3.2%. This remains well above the national rate of 1.65%. Private sector employment gains continue to be robust, increasing at an annual rate of 3.7%. The strongest growth sectors were Construction (+7.4%), Information (+6.2%), and Professional & Business Services (+6.1%). The state's unemployment rate was 4.5%, down from 4.8% a year ago.
All year I've been predicting that Washington State's annual job growth would outperform the nation as a whole, and we now know with certainty that this is going to be the case. Furthermore, I am now able to predict that statewide job growth in 2019 will be equally strong, with an expected increase of 2.6%.
HOME SALES ACTIVITY
There were 22,310 home sales during the third quarter of 2018. This is a significant drop of 12.7% compared to the third quarter of 2017.
The number of homes for sale last quarter was up 14.5% compared to the third quarter of 2017, continuing a trend that started earlier in the year. However, the increase in listings was only in Seattle's tri-county area (King, Pierce, and Snohomish Counties) while listing activity was down across the balance of the region.
Only two counties had a year-over-year increase in home sales, while the rest of Western Washington saw sales decrease.
The region has reached an inflection point. With the increase in the number of homes for sale, buyers now have more choices and time to make​ a decision about what home to buy.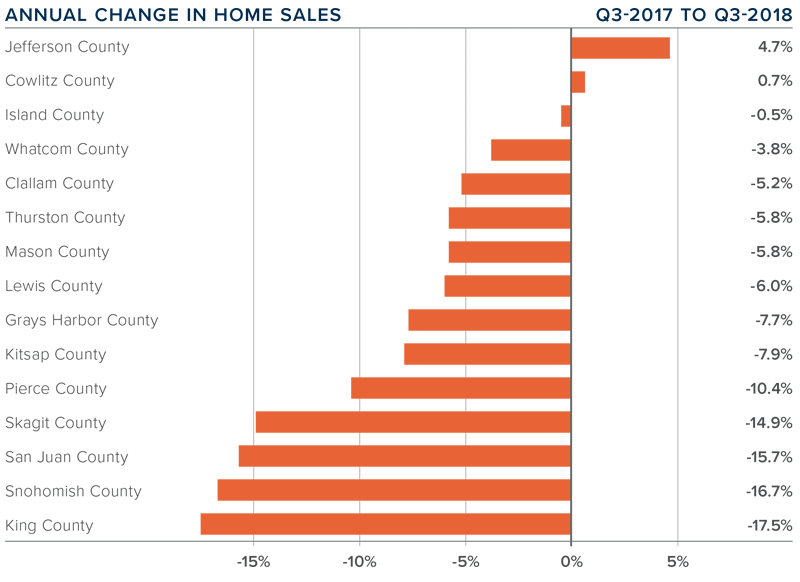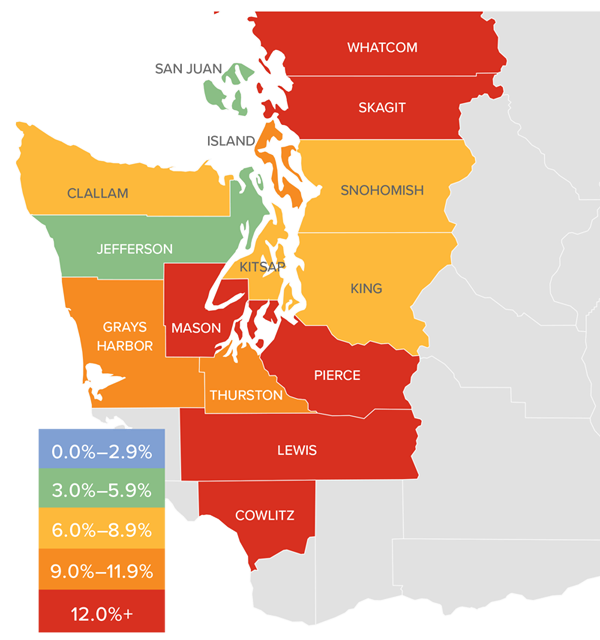 HOME PRICES
As inventory levels start to rise, some of the heat has been taken off the market,
which caused home prices in the Western Washington region to go up by a
relatively modest 6.2% over last year to $503,039. Notably, prices are down
by 4.4% when compared to the second quarter of this year.
Home prices, although higher than a year ago, continue to slow due to the
significant increase in the number of homes for sale. This, in my opinion,
is a very good thing.​​
When compared to the same period a year ago, price growth was strongest in
Lewis County, where home prices were up 15.3%. Six other counties experienced
double-digit price increases.​
Slowing price growth was inevitable; we simply could not sustain the increases
we've experienced in recent years. Lower rates of appreciation will continue until
wage growth catches up.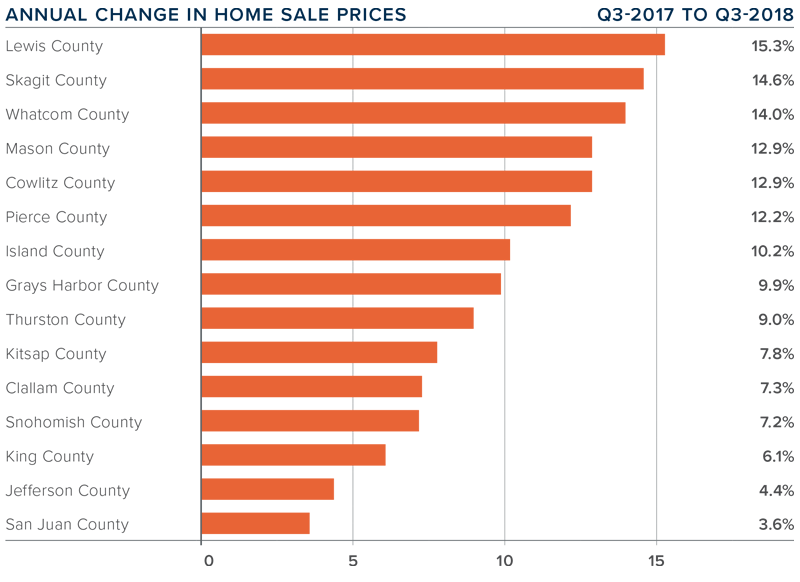 DAYS ON MARKET
The average number of days it took to sell a home dropped by four days compared to the same quarter of 2017.​
Across the entire region, it took an average of 39 days to sell a home in the third quarter of this year. This is down from 43 days in the third quarter of 2017 and down 2 days when compared to the second quarter of 2018.​
King County continues to be the tightest market in Western Washington, with homes taking an average of only 19 days to sell. Every county in the region other than Skagit and King — which both saw the time on the market rise by 2 days — saw the length of time it took to sell a home drop when compared to the same period a year ago.​​
More choice in the market would normally suggest that the length of time it takes to sell a home should rise, but the data has yet to show that. That said, compared to last quarter, we are seeing some marked increases in days on market in several counties, which will be reflected in future reports.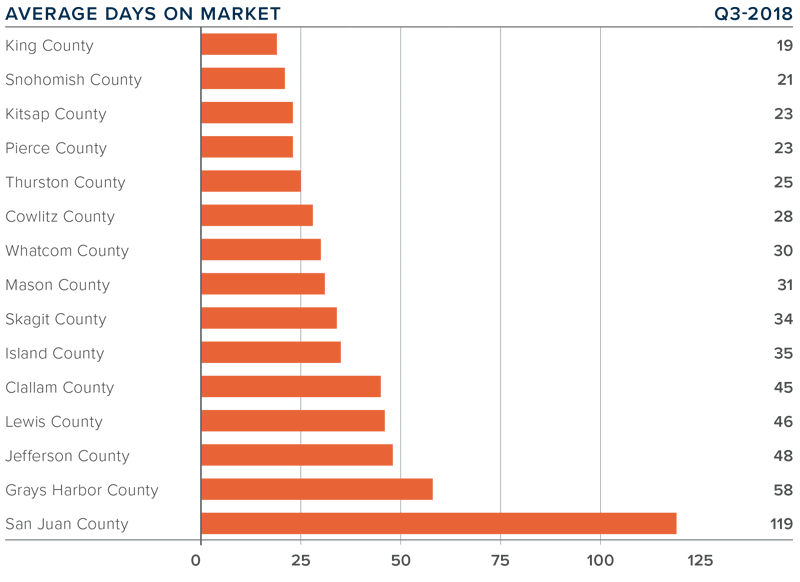 CONCLUSIONS
This speedometer reflects the state of the region's real estate market using housing inventory, price gains, home sales, interest rates, and larger economic factors. I started to move the needle toward buyers last quarter and have moved it even further this quarter. Price growth continues to slow, but more significant is the rise in listings, which I expect to continue as we move toward the quieter winter period.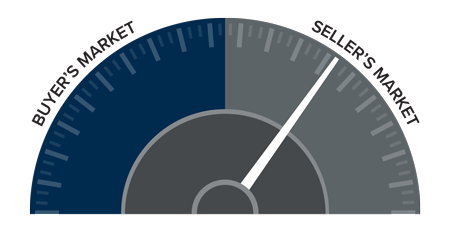 I believe that psychology will start to play a part in the housing market going forward. It has been more than 15 years since we've experienced a "balanced" market, so many home buyers and sellers have a hard time remembering what one looks like. Concerns over price drops are overrated and the length of time it's taking to sell a home is simply trending back to where it used to be in the early 2000s.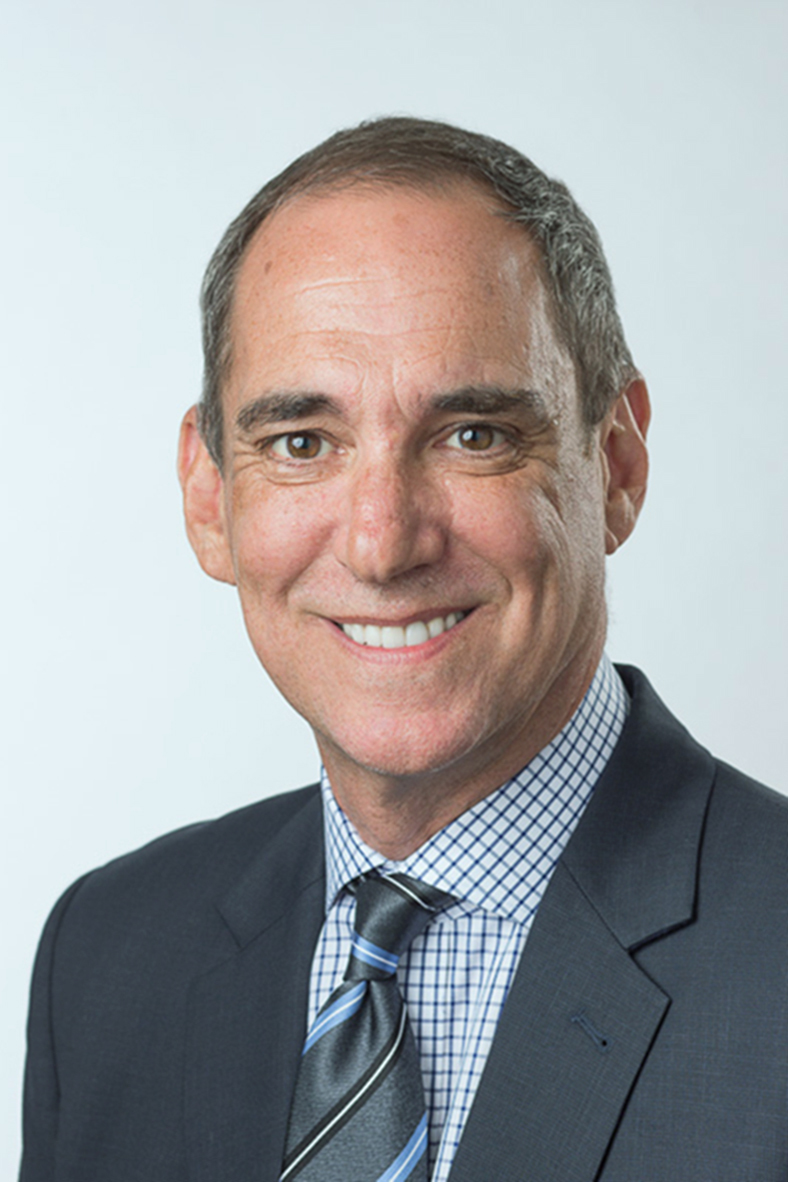 Mr. Gardner is the Chief Economist for Windermere Real Estate, specializing in residential market analysis, commercial/industrial market analysis, financial analysis, and land use and regional economics. He is the former Principal of Gardner Economics and has more than 30 years of professional experience both in the U.S. and U.K.