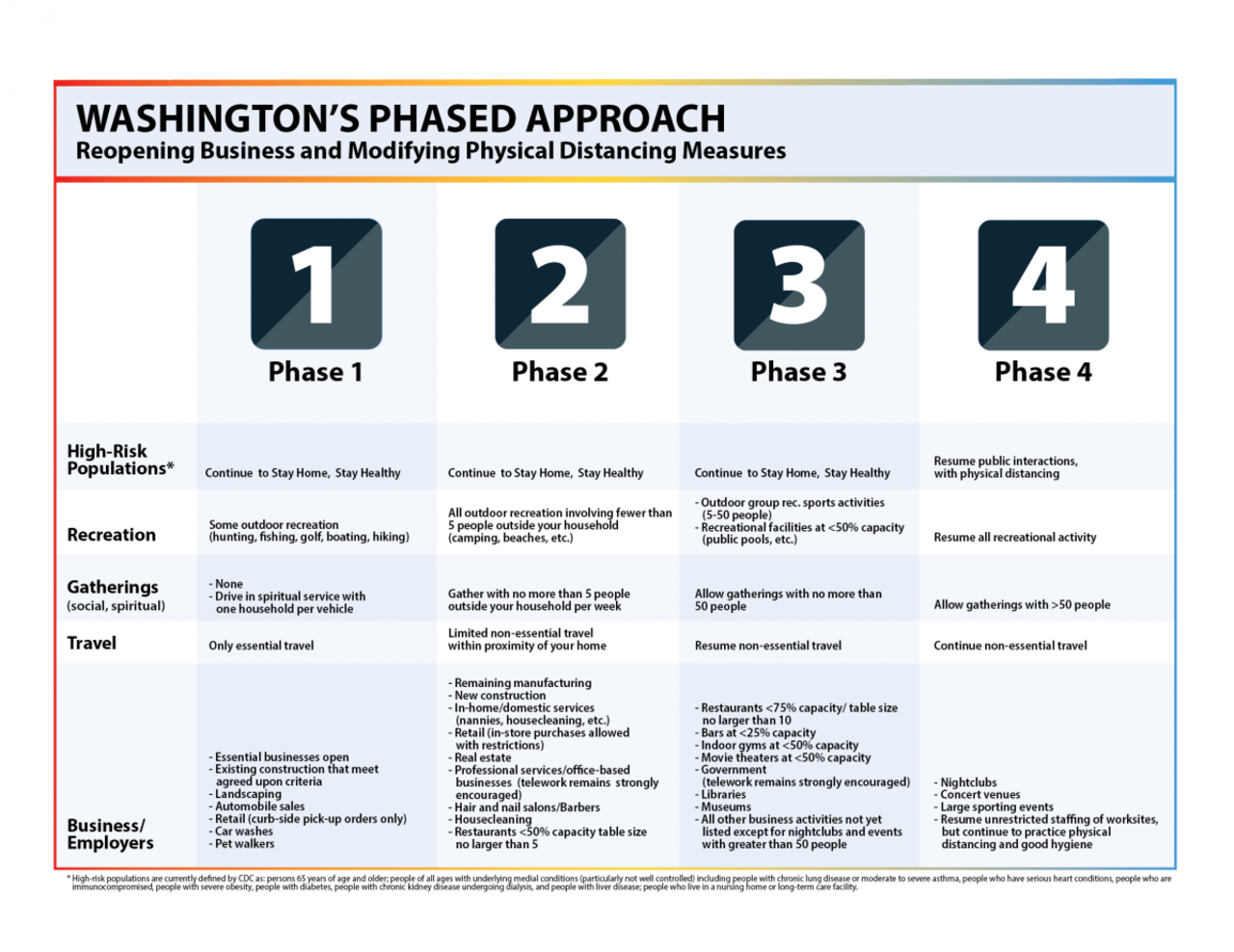 ---
Gov. Inslee lays out our plan
A 4 Phase plan to re-open Washington from the Stay Home Order.
In this letter, I will give my interpretation of this plan and how it relates to real estate along with updates and clarifications from the WA Realtor Association.
This plan is similar to many other states including NY and CA in that it has specifics about what can open at each Phase but doesn't put a timeline on future phases.
But, Phase 1 started on Monday the 5th! Each phase should last about 3 weeks.
The WA Realtor Assc. announcement, below, interprets the governors announcement for real estate activity.
It says that all real estate activities will be allowed in Phase 2, with the exception of maybe in person open houses since gatherings are restricted to 5 people total.
Also in Phase 2, housecleaning is allowed which I think gives way to allowing contractors into your house to prep your home for sale.
---
GOVERNOR ANNOUNCES 4 PHASE APPROACH – from WA Realtors Assc.
On Friday, May 1st Governor Inslee announced an extension of the "Stay Home, Stay Healthy" order to May 31st and laid out a phased approach to re-opening the State economy. Phase 1 begins Tuesday, May 5th. Please note that this does not affect the modifications that were made to the original Stay Home, Stay Healthy order that allow certain real estate activities to take place.
Phase 2 businesses will include all other real estate activity including commercial real estate, the re-opening of real estate offices, and services such as sign installation. Phase 2 also allows gatherings outside your residence for up to 5 people, which presumably would apply to parts of the real estate transaction such as showings, appraisals notarizations, etc. The Governor's phased-in plan will apply in counties that have been harder hit by COVID-19. The 10 counties that have not been as impacted by the virus will be allowed to apply for waivers that will let them open up faster (see KING5 story for summary).
Although it is not yet clear when Phase 2 will begin, we will be in constant dialog to make our case for the earliest possible start date that is consistent with maintaining public health as the number one priority, and we also will continue urging the Governor's office to approve additional, and safe, modifications that we've requested to allow brokers to more fully meet the needs of their clients.
---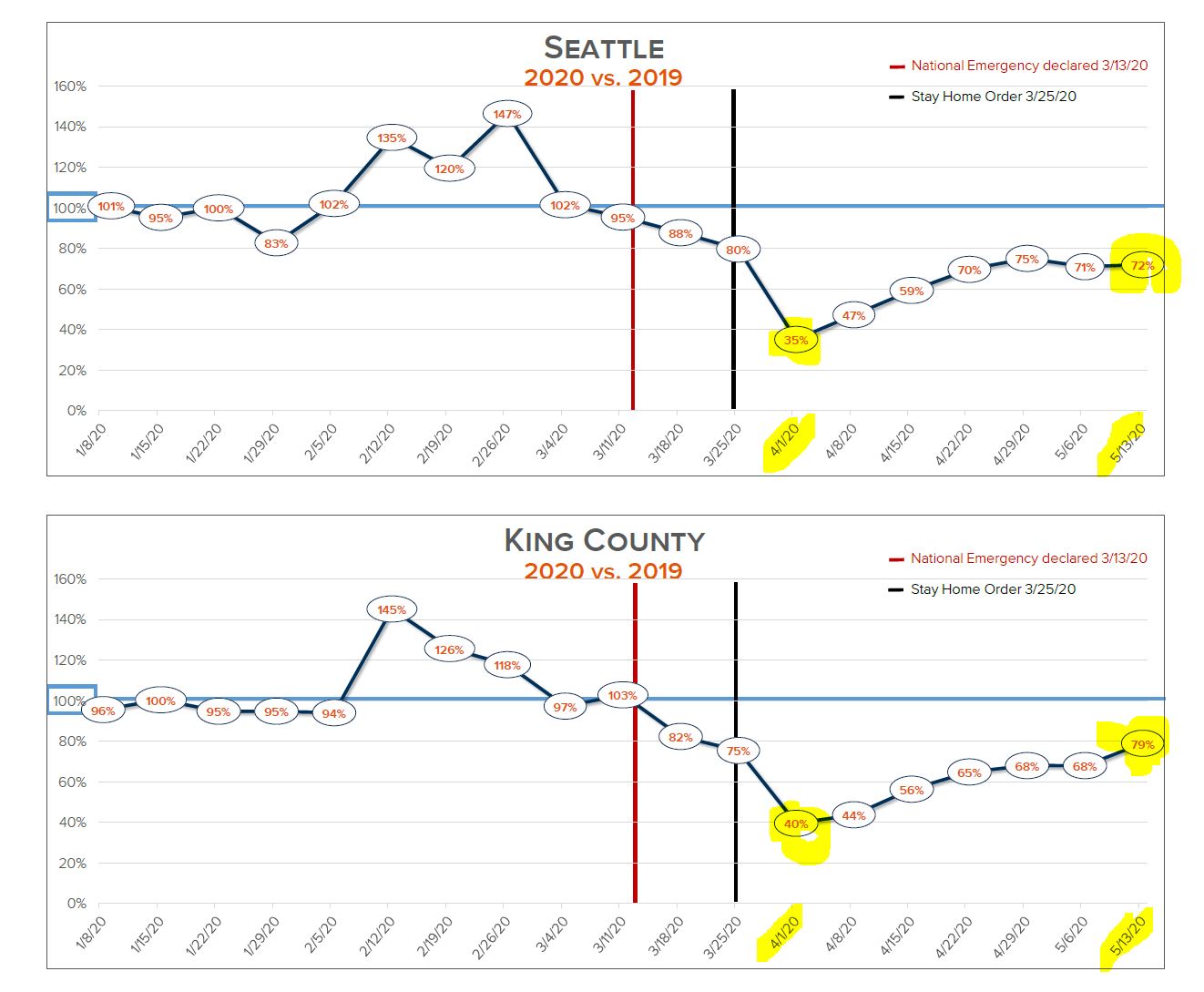 ---
RE Transactions Rebound
Transactions in Seattle and King Co. bottomed out the first week of April, down -65% vs LY but have been increasing since this low.
This data plus a decrease in market time to sell a home and a +8% increase in sold home prices in April in Seattle show us that there are still buyers in the market and they are transacting.
The residential real estate market is still active and I think it will be headed back to "normal" once we are further along into Phases 2 & 3 this summer.
Only time will tell how the Stay Home Order will ultimately impact our housing market.
So far, real estate is fairing better than most segments of our economy.
---
Almost $700k for our neighbors in need!!
Thank you, thank you to all that helped support this incredibly worthy cause to help our neighbors in need and bring food and resources to our local food banks.
Our agent supported Windermere Foundation matched $250,000 to the $440,000 raised to get the total donation to almost $700,000! Amazing!
---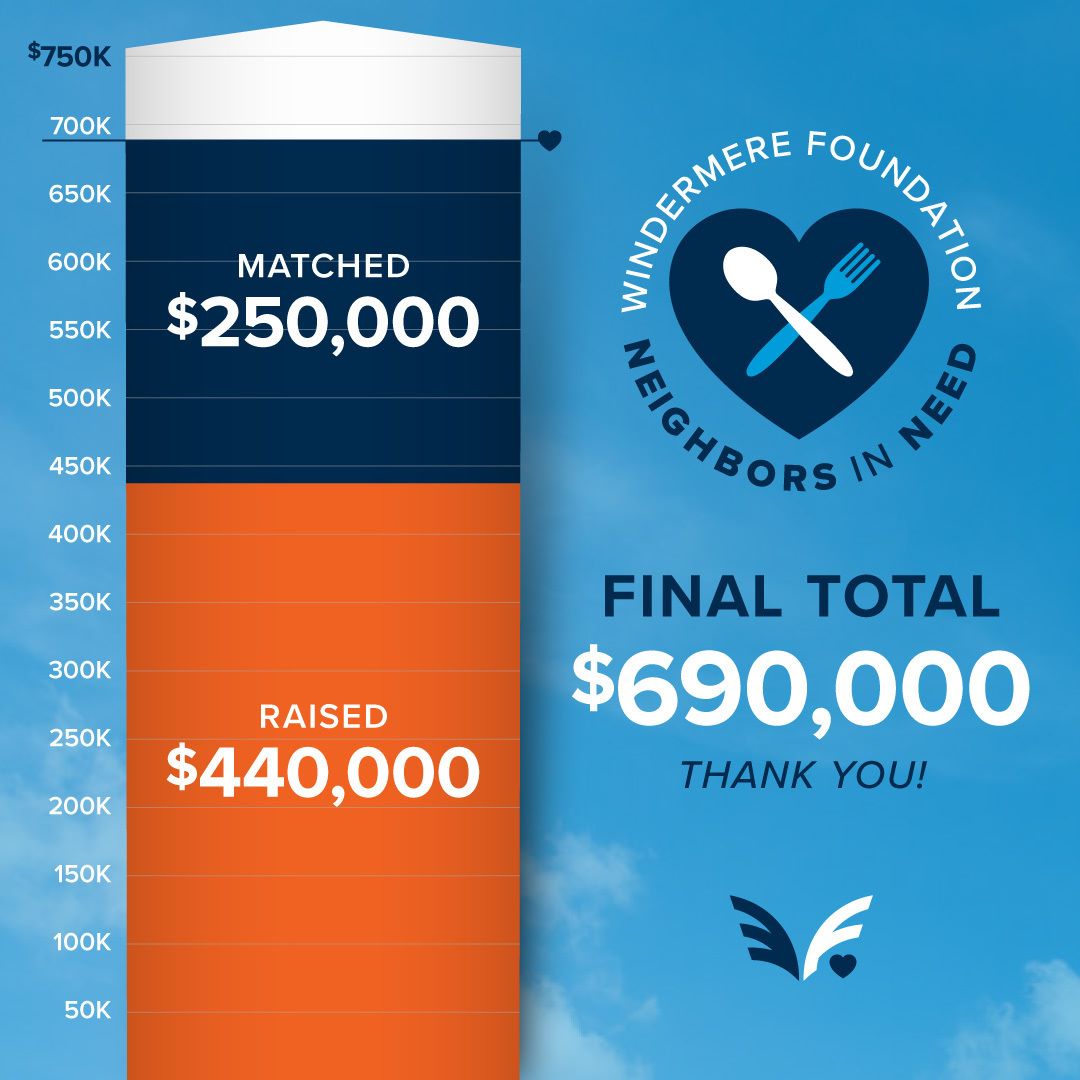 ---
Life goes on…
I know it's been hard for all of us to adapt to this crazy time and it is so much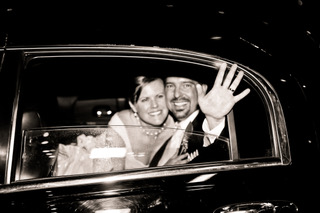 more challenging for the most vulnerable in our city.
Things around my house have been moving forward, sometimes without me. I owe so much to my incredible family!
They have all stepped up and kept a positive attitude while spreading some kindness.
With love, the Johnson's
My wife, Lari, and I celebrated our lucky
13th wedding anniversary in early May!
---