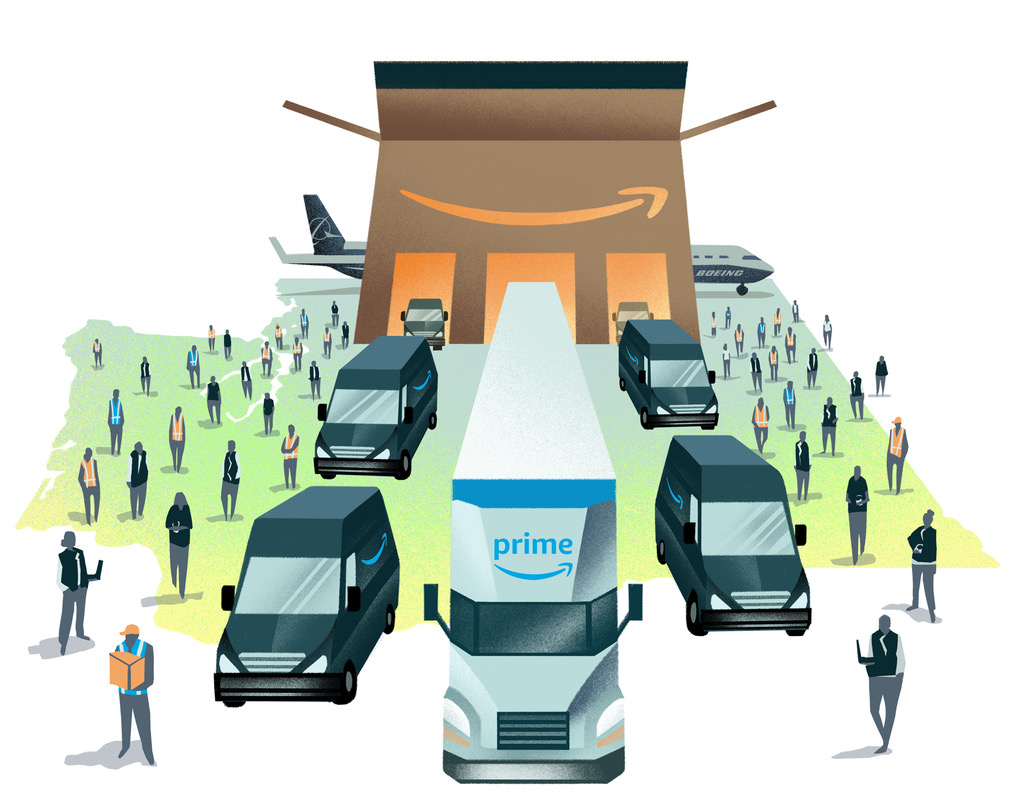 Love 'em or hate 'em, Amazon is remaking the Seattle and WA economy.
And now, Boeing's boom and bust cycles are not so devastating to our economy.
I would like to see more diversity and giving back to the community from Amazon.
The housing affordability issue is real in Seattle and Amazon could have a bigger impact on this problem if it chooses to.
The Seattle Times article "Amazon surpasses Boeing as Washington state's biggest employer" has some good reporting on the pros and cons of both of our two largest employers.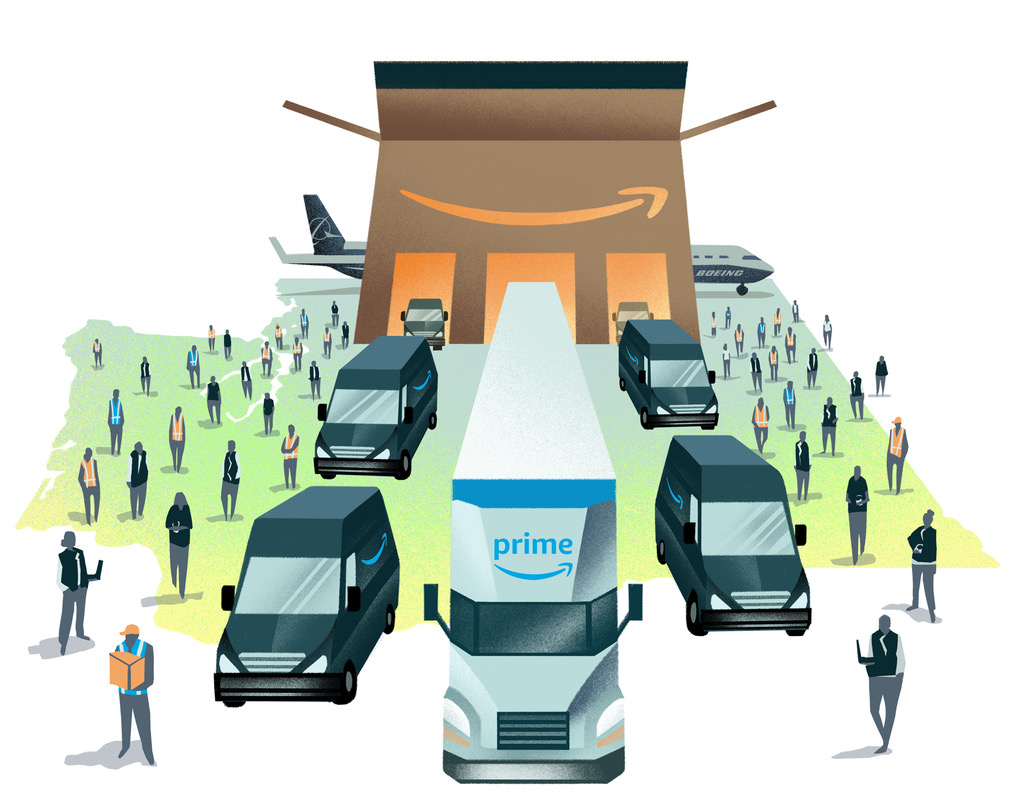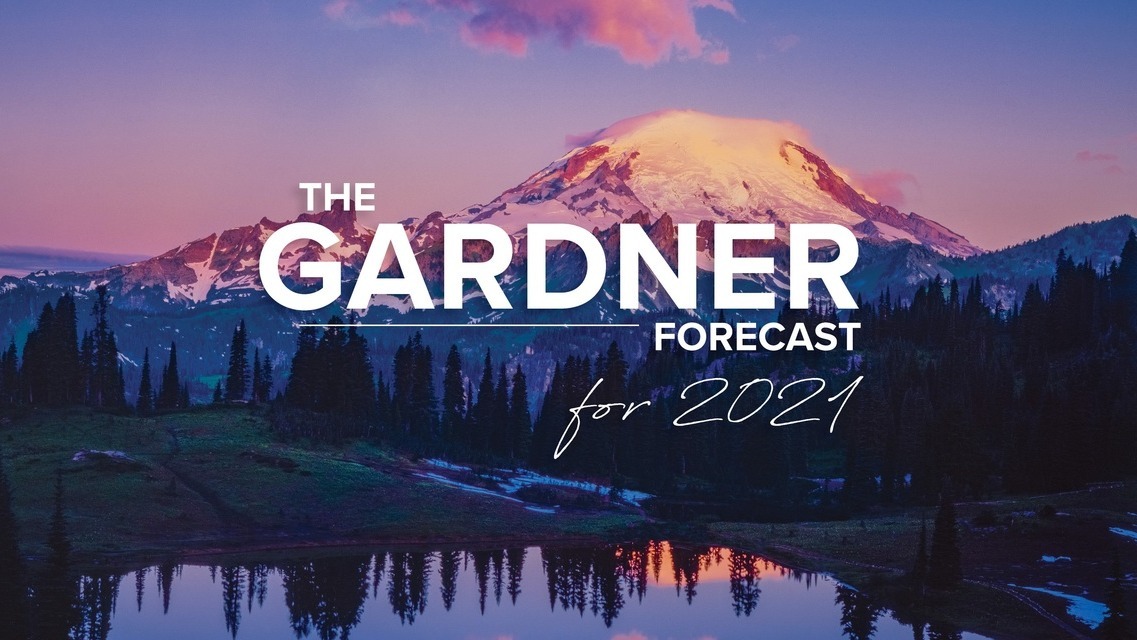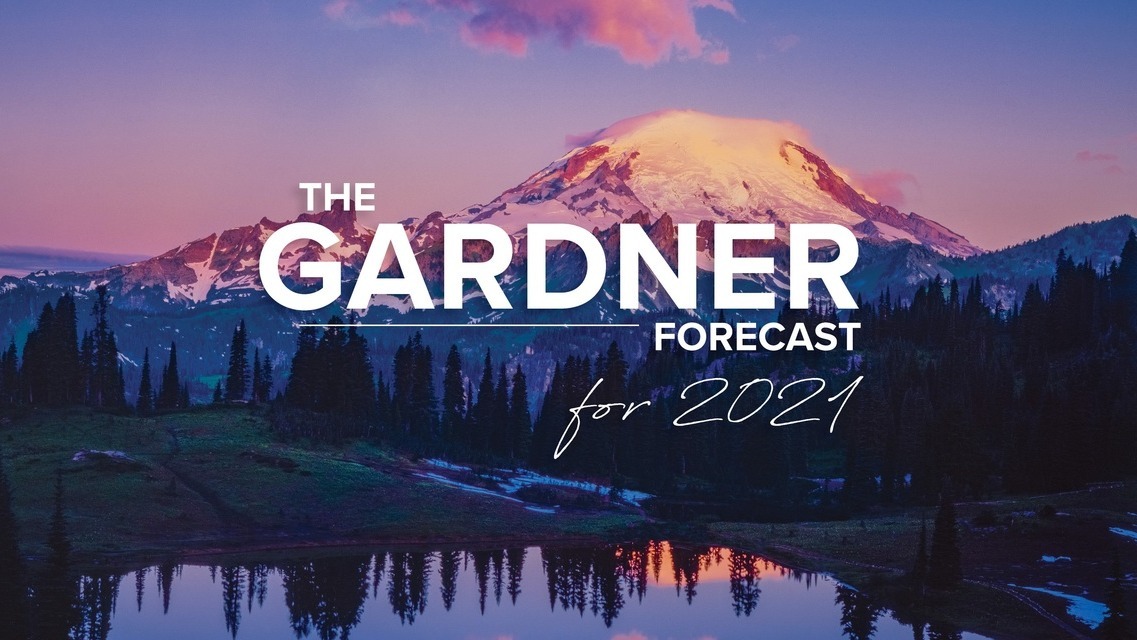 Windermere's Chief Economist Matthew Gardner dusts off his crystal ball and peers into the future to give us his predictions for the 2021 economy and housing market.
U.S. ECONOMY
Gardner predicts a rise in housing inventory, as people who can work remotely move farther away from their offices, or those whose homes aren't conducive to remote work seek out a better living arrangement. 
But Gardner also pragmatically points out that a "mass exodus" completely away from urban centers is unlikely, as many workers may find themselves with a flexible blended arrangement of remote work and a few days in the office per week. 
HOME SALES
Gardner is predicting a large increase in home sales in 2021 (he covers new construction separately). His forecast puts home sales up by 6.9%, a level that hasn't been seen since 2006.
NEW CONSTRUCTION
With the rising demand for housing inventory, Gardner predicts that new construction starts for single-family homes will rise by a sizeable 16.4%. This is great news for builders, and also for buyers, as increased inventory may help to alleviate the incredible demand the market has been experiencing.
MORTGAGE RATES
Along with increased starts, Gardner is anticipating an increase of 18.7% in new home sales for 2021—again reaching a level the market hasn't seen since 2006. 
Throughout 2020, mortgage rates hit historic lows, largely due to the impact COVID-19 had on the housing market. These low rates drove already high demand for housing even higher, and Gardner does not predict mortgage rates will rise significantly in 2021.
His current forecast sees mortgage rates dropping to their lowest rate in the current quarter at 2.83%, and rising to about 3.08% by the fourth quarter of 2021.
CONCLUSIONS
Though Covid has certainly impacted the housing market in ways we never could have anticipated, there is plenty of reason to believe the market will continue to recover in 2021. New home construction and sales provide a particularly optimistic outlook, while low mortgage rates could give first-time buyers a chance to break into the market.
Click the link below for Matthew's weekly economic and housing update on the Windermere blog.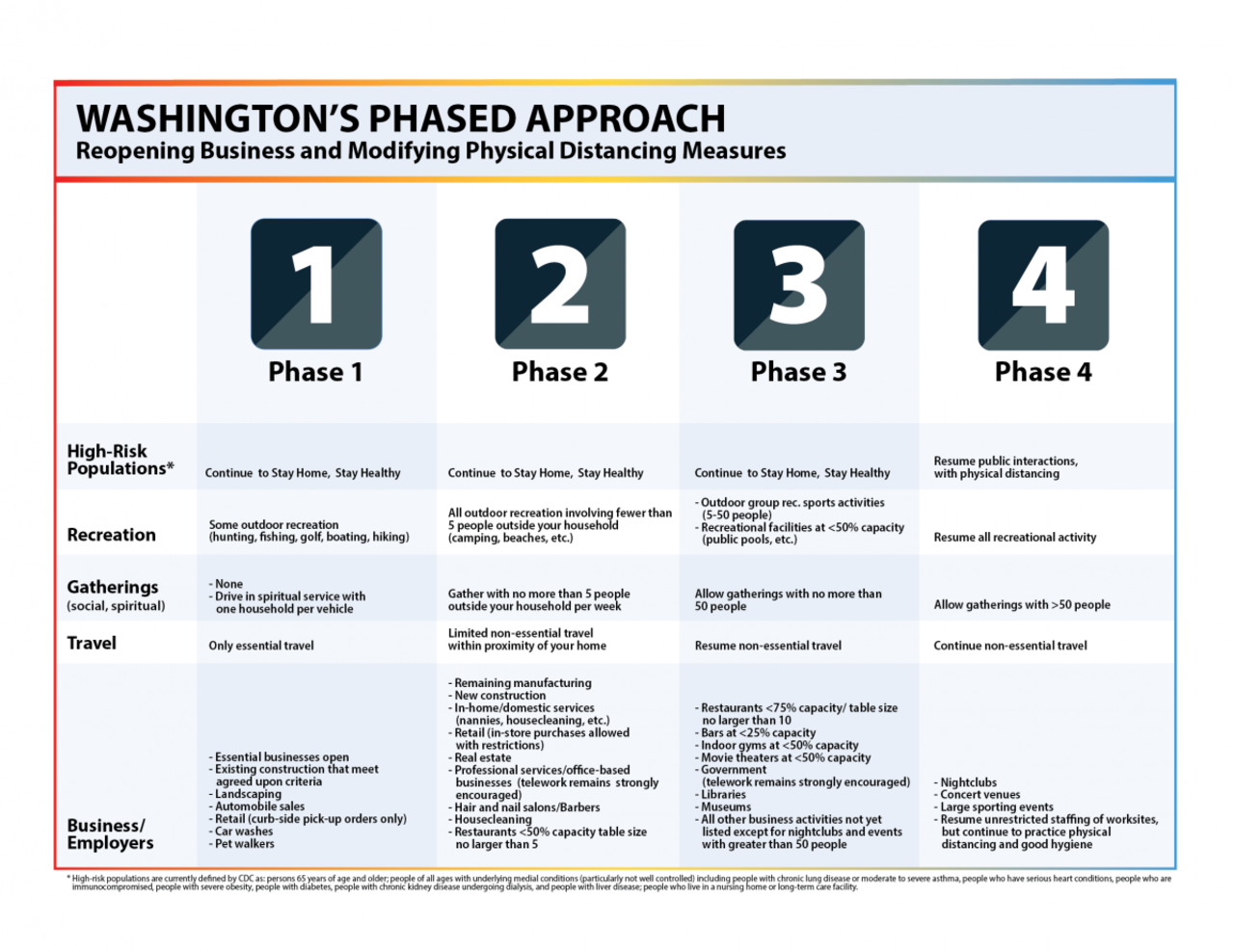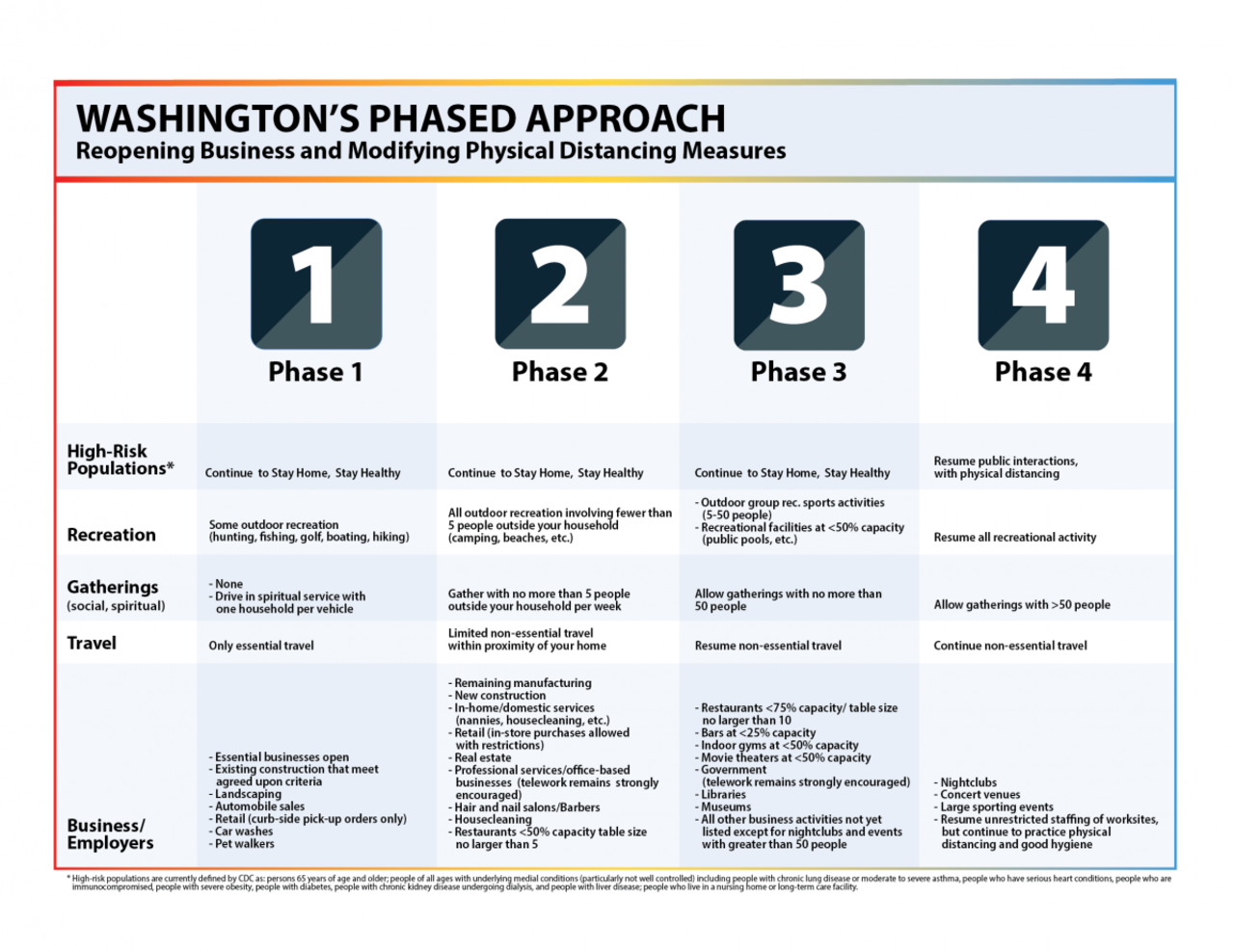 ---
Gov. Inslee lays out our plan
A 4 Phase plan to re-open Washington from the Stay Home Order.
In this letter, I will give my interpretation of this plan and how it relates to real estate along with updates and clarifications from the WA Realtor Association.
This plan is similar to many other states including NY and CA in that it has specifics about what can open at each Phase but doesn't put a timeline on future phases.
But, Phase 1 started on Monday the 5th! Each phase should last about 3 weeks.
The WA Realtor Assc. announcement, below, interprets the governors announcement for real estate activity.
It says that all real estate activities will be allowed in Phase 2, with the exception of maybe in person open houses since gatherings are restricted to 5 people total.
Also in Phase 2, housecleaning is allowed which I think gives way to allowing contractors into your house to prep your home for sale.
---
GOVERNOR ANNOUNCES 4 PHASE APPROACH – from WA Realtors Assc.
On Friday, May 1st Governor Inslee announced an extension of the "Stay Home, Stay Healthy" order to May 31st and laid out a phased approach to re-opening the State economy. Phase 1 begins Tuesday, May 5th. Please note that this does not affect the modifications that were made to the original Stay Home, Stay Healthy order that allow certain real estate activities to take place.
Phase 2 businesses will include all other real estate activity including commercial real estate, the re-opening of real estate offices, and services such as sign installation. Phase 2 also allows gatherings outside your residence for up to 5 people, which presumably would apply to parts of the real estate transaction such as showings, appraisals notarizations, etc. The Governor's phased-in plan will apply in counties that have been harder hit by COVID-19. The 10 counties that have not been as impacted by the virus will be allowed to apply for waivers that will let them open up faster (see KING5 story for summary).
Although it is not yet clear when Phase 2 will begin, we will be in constant dialog to make our case for the earliest possible start date that is consistent with maintaining public health as the number one priority, and we also will continue urging the Governor's office to approve additional, and safe, modifications that we've requested to allow brokers to more fully meet the needs of their clients.
---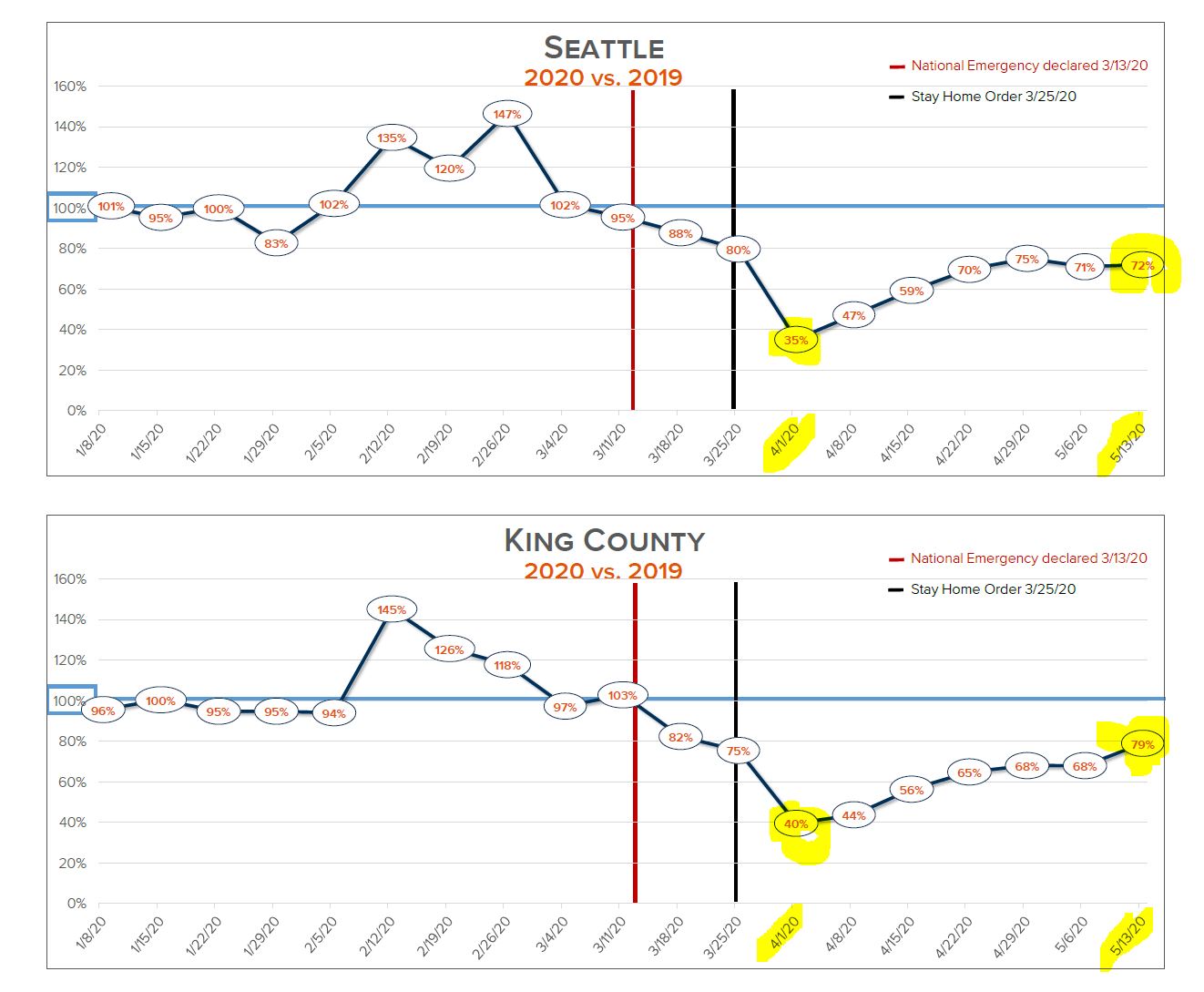 ---
RE Transactions Rebound
Transactions in Seattle and King Co. bottomed out the first week of April, down -65% vs LY but have been increasing since this low.
This data plus a decrease in market time to sell a home and a +8% increase in sold home prices in April in Seattle show us that there are still buyers in the market and they are transacting.
The residential real estate market is still active and I think it will be headed back to "normal" once we are further along into Phases 2 & 3 this summer.
Only time will tell how the Stay Home Order will ultimately impact our housing market.
So far, real estate is fairing better than most segments of our economy.
---
Almost $700k for our neighbors in need!!
Thank you, thank you to all that helped support this incredibly worthy cause to help our neighbors in need and bring food and resources to our local food banks.
Our agent supported Windermere Foundation matched $250,000 to the $440,000 raised to get the total donation to almost $700,000! Amazing!
---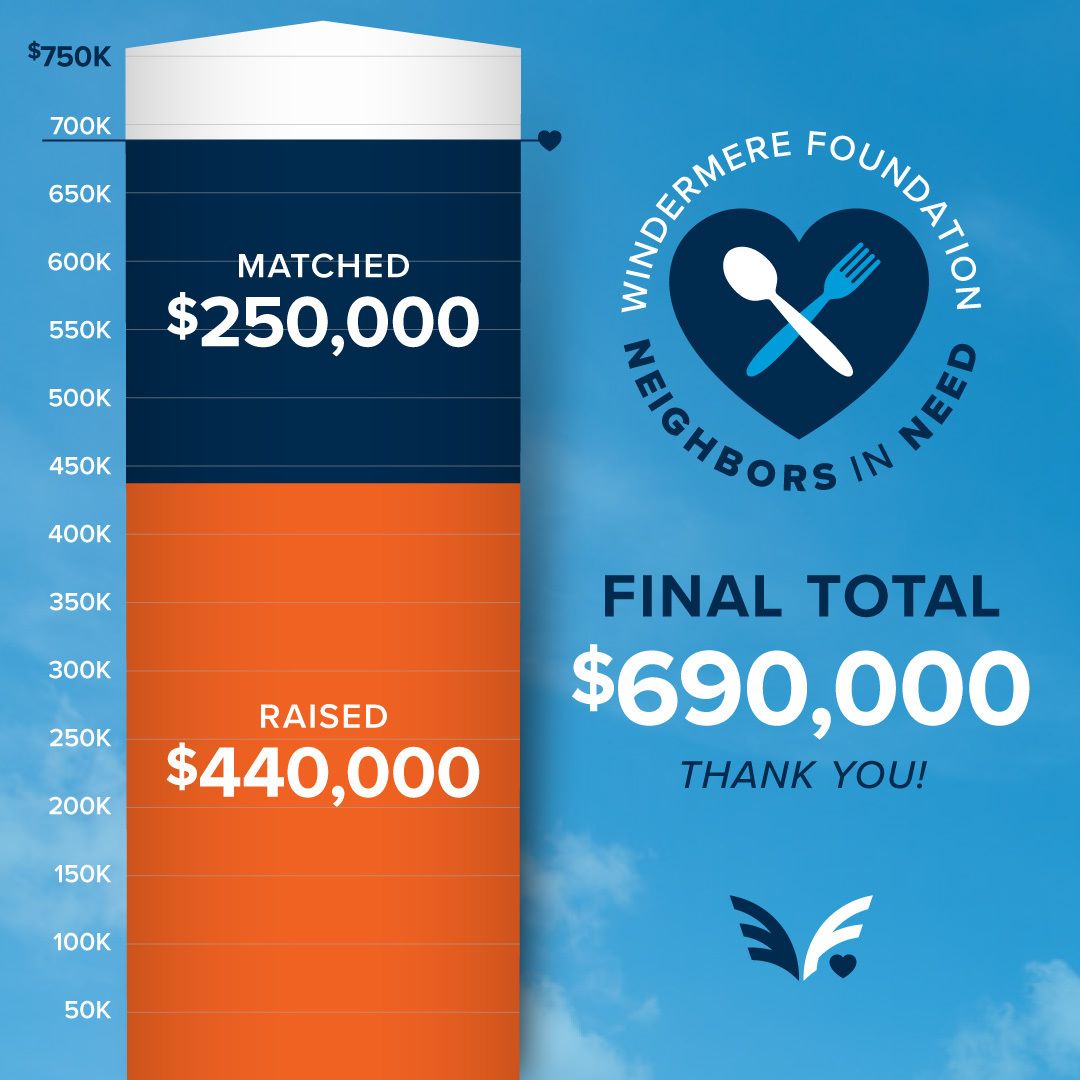 ---
Life goes on…
I know it's been hard for all of us to adapt to this crazy time and it is so much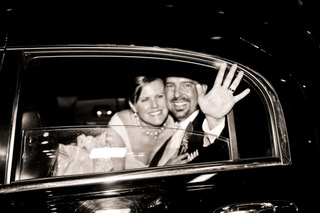 more challenging for the most vulnerable in our city.
Things around my house have been moving forward, sometimes without me. I owe so much to my incredible family!
They have all stepped up and kept a positive attitude while spreading some kindness.
With love, the Johnson's
My wife, Lari, and I celebrated our lucky
13th wedding anniversary in early May!
---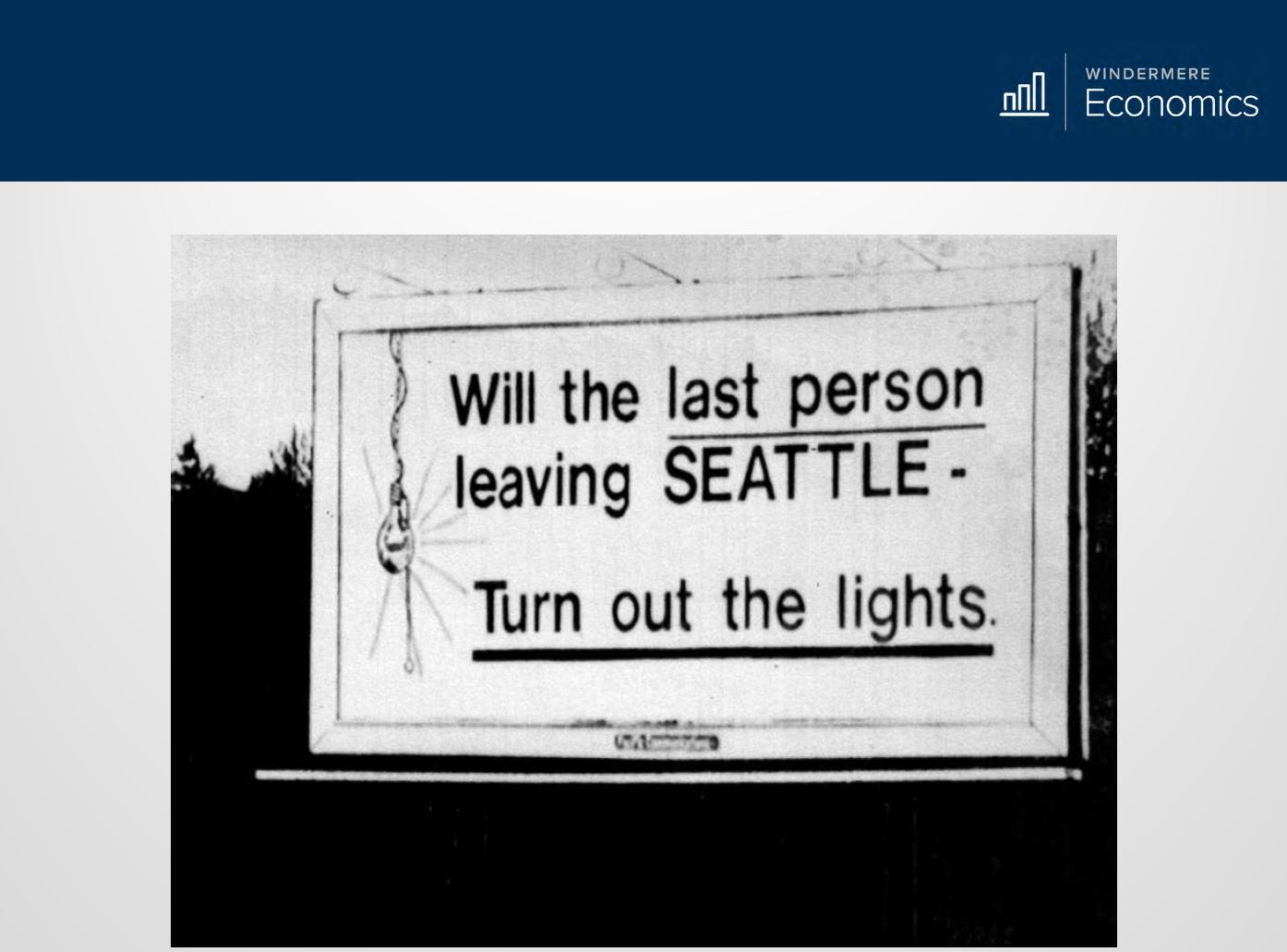 I was able to listen to our chief economist for Windermere yesterday for his annual economic forecasts heading into 2020. The slides below illustrate his forecast for the Seattle area moving into 2020. #realestateislocal 
Matthew Gardner, while being one of the brightest minds in our company, knows how to deliver a message.
We all know that most economist are calling for a national recession in the not too distant future. But most are now pushing back for this to begin in mid 2021, be short lived and not focused on the housing market like the great recession.
Matthew feels the next recession will be due to the ongoing trade wars with China and the EU as well as our escalating national debt. With interest rates already at historic lows, the Fed will NOT be able to help end the recession by lowering rates.
But the Seattle area will be somewhat insulated to these national issues in the coming years, here's why…
We're no longer a one trick pony. Like when this sign from 1973 went up during a Boeing slump. Seattle's industries have diversified. There are now 34 Fortune 500 companies in the Seattle Area compared to 7 just a few years ago! Boeing is still king with over 80,000 employees in the area but their ups and downs don't threaten the Seattle economy like they did not too long ago.

The tech industry is the largest employer in the Seattle Metro area and have driven our unemployment #'s down to 3%.

The other employers to round out the top 5 for the Seattle area are JBLM, Joint Base Lewis McCord (56,000), Microsoft (42,000), Amazon (25,000) and UW, University of WA (25,000). A healthy mix of different industries that are projected to grow their employment by 2.2% next year, again leading the nation.

All of these growing companies in the Seattle area are why our economy will continue to expand through 2020.

There is still no signs of a Housing Bubble.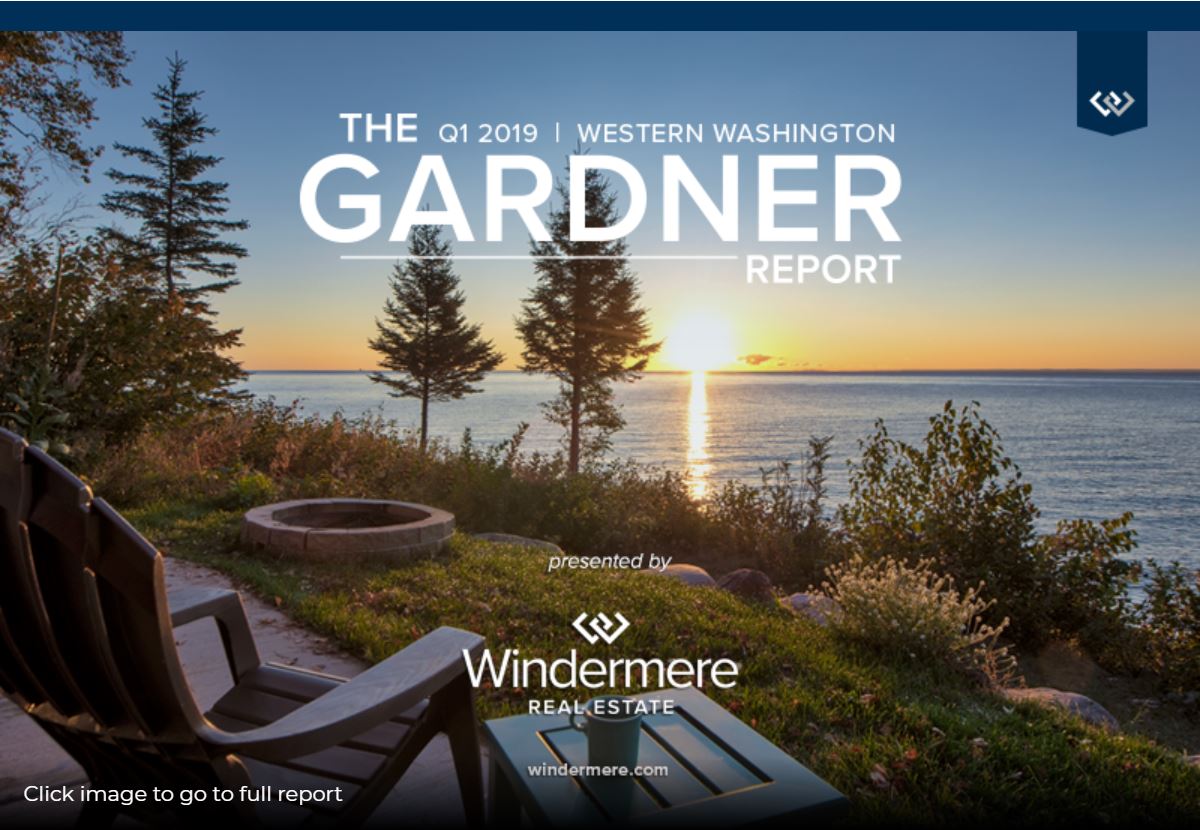 The Gardner Report will tell you what's happening in WWA real estate and a forecast for 2019.
The other graphs show you how the Seattle real estate market is trending for Q1 of 2019.
Some of the hotter neighborhoods are seeing over +15% price appreciation Feb to Mar 2019.
But most economist don't feel we're returning to the craziness of the last few years.
A much more manageable growth rate moving forward for Seattle, that's nice for everyone, buyers and sellers.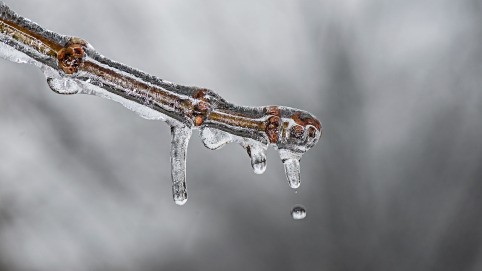 Here are a few thoughts about melting snow, possible water intrusion and houses from Don McFeron at Scout Building Inspections:
"Gutters and downspouts full of snow and ice can back up if it starts raining before the snow and ice melt.
Water backing up in the gutters can be a real problem if you have a house without much of a roof overhang, because instead of wetting the soffits, it can get into the walls.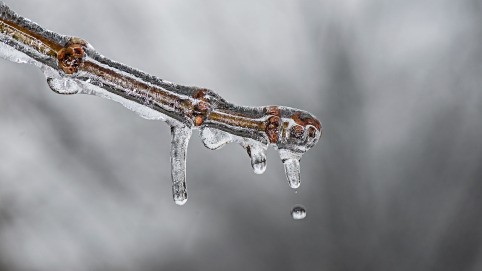 Roof downspout in-ground drains can ice up, and then the water coming down the downspouts can spill out next to the foundation. If the house has a finished basement, the water next to the house could get into wall cavities through the footing-to-foundation joint, and any through-wall penetrations or cracks. Make sure that water coming out of the downspouts runs down into functioning in-ground drains, or route the water on the surface far enough away from the foundation that the water cannot run down next to it and get into the basement or the crawl space.
Snow in a basement window well can get up against the windows and window trim. When the snow melts it could get in through small gaps between the windows and trim.
Water from melting snow that has piled up against a door can get in through weep holes and weather stripping as it melts.
When you shovel a walkway, be careful to not pile the snow up against the side of the house.
Snow on a roof can get up under the flashing around skylights, chimneys, plumbing vents, attic ridge vents, etc. Pretty much all of the flashings and roof boots are designed to protect against water that is flowing down hill. Blowing snow can get under the edges of flashings or pack in around them and then drip down behind them as it melts. Usually the amount of water would not be noticeable, but in a situation where there are several inches of snow followed by a quick melt and a lot of rain, it could be a problem.
I cleared the snow off of my roof top deck tonight because the snow was deep enough that when it melted it could have gotten up under the siding, through gaps between the door to the roof or through perimeter flashings and into the house. The through-wall drains were packed with snow so that water may not have been able to drain through them.
Keep dry,
Don"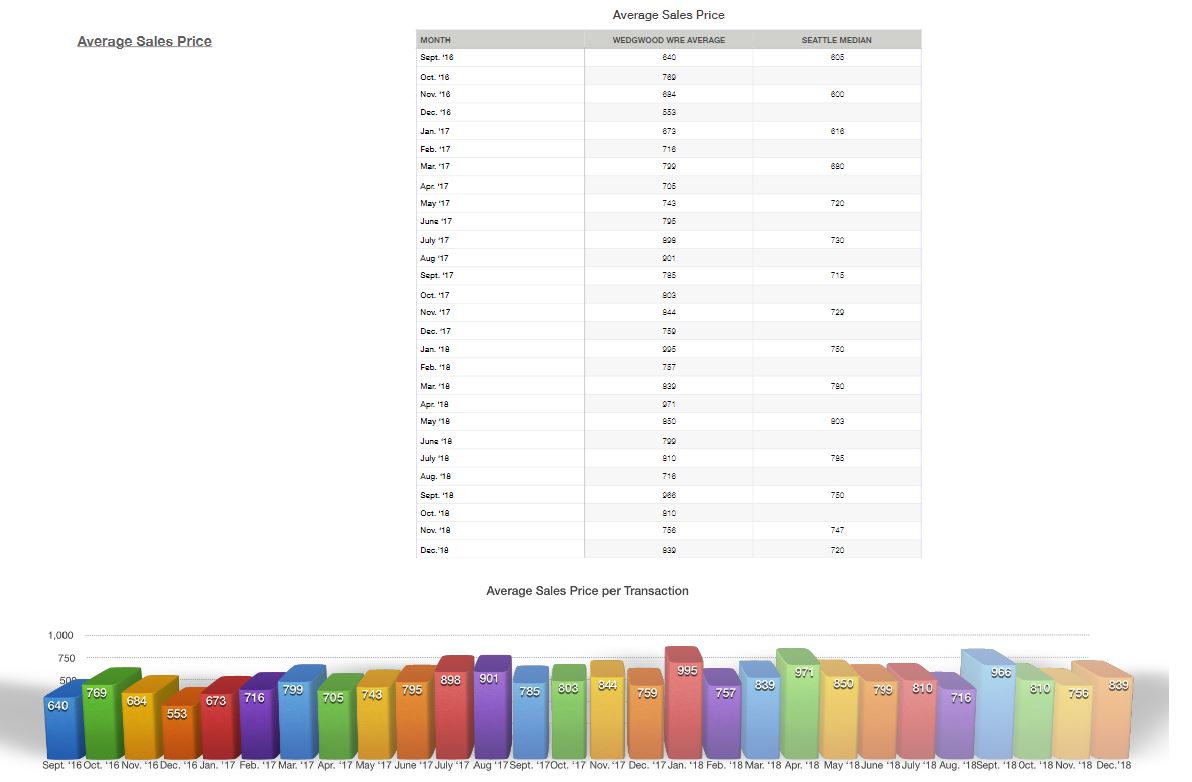 My office, Windermere Wedgwood, publishes statistics for the transactions that we represent each month.
These statistics dive deeper than the basic info you get from online sources.
The pack below shows transaction details like type of financing, cash offers, # of offers and the one I find most interesting this month, median sold price.
The median sold price for the 16 transactions completed by my office in December 2018 was $839k vs. $759k from Dec. 2017 or +10.5%
Even with the Seattle Times headlines about Seattle's rapid decrease in prices, the numbers don't lie, +10% vs last year!
https://1drv.ms/b/s!AlaUpVIy4kt9ge4Fxw5kVih5A4RrJA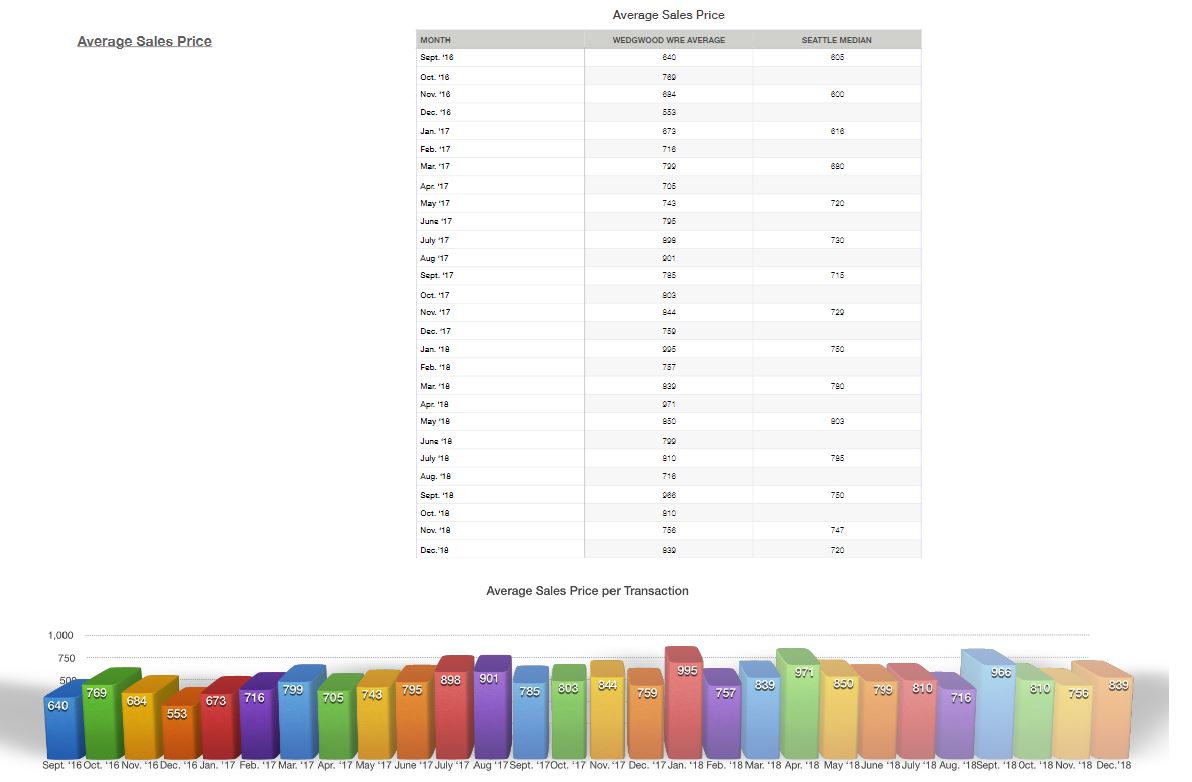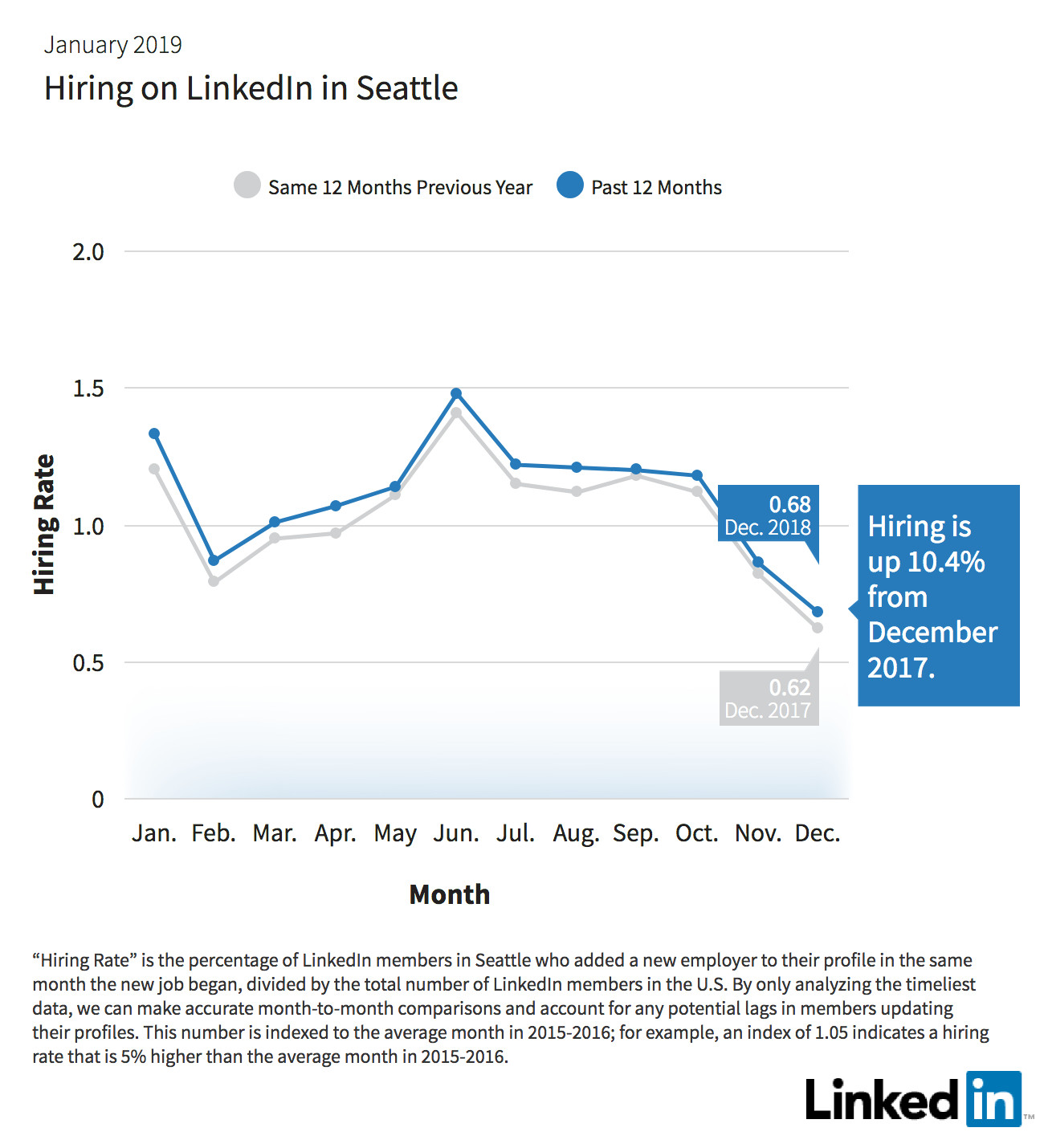 So much for the HQ2/3 impact on the Seattle employment picture.
This workforce report is pulled from LinkedIn data but a good indicator of what's happening in the broader market.
While Amazon might be slowing down their rate of hiring in Seattle, others are ramping up for 2019 and beyond – Expedia, Facebook and Google to name a few.
Seattle is still a great place to invest your real estate dollar and looks to continue…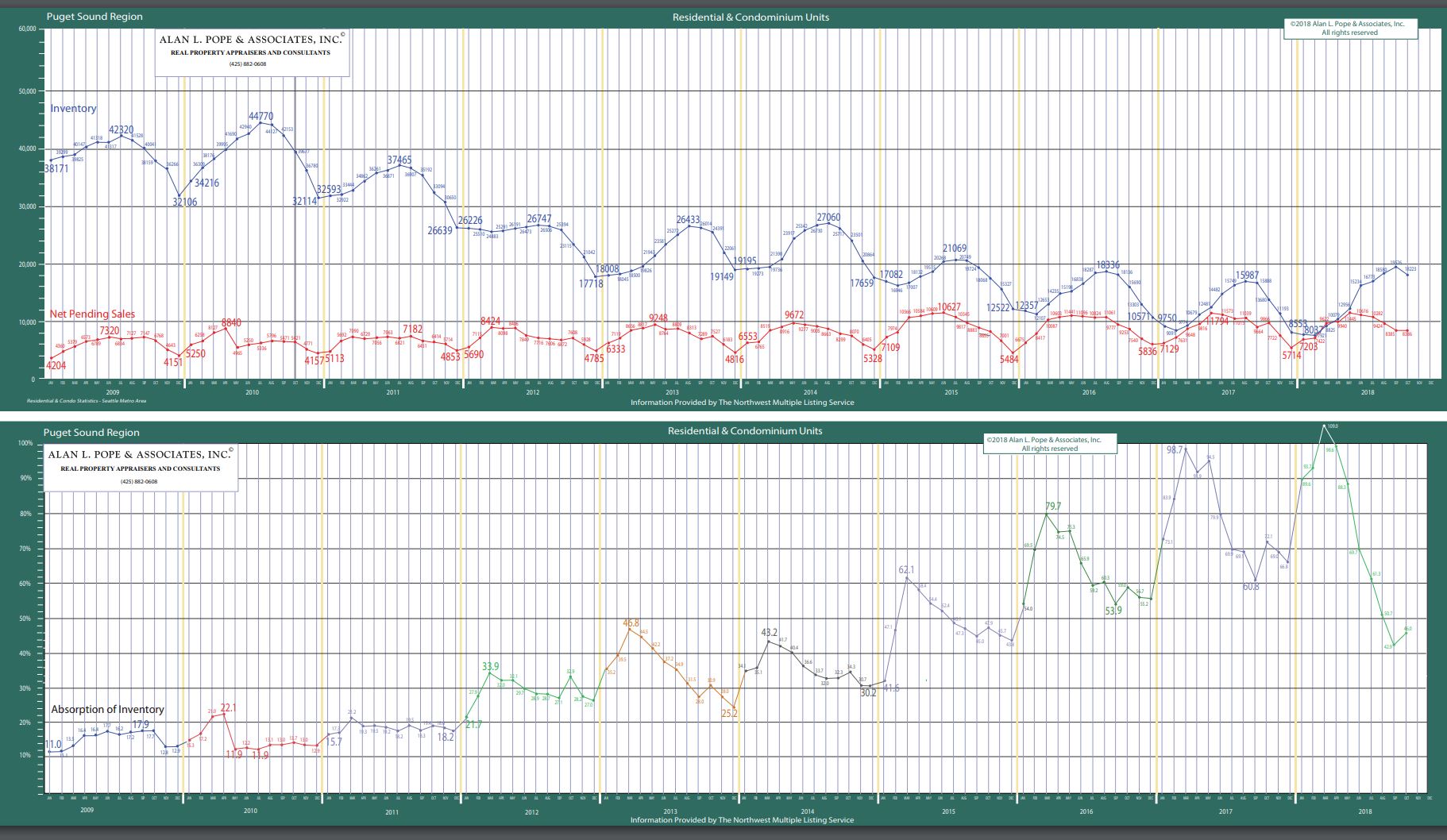 It's seasonal, really, we're going through a slow down in the Seattle market but it's also seasonal.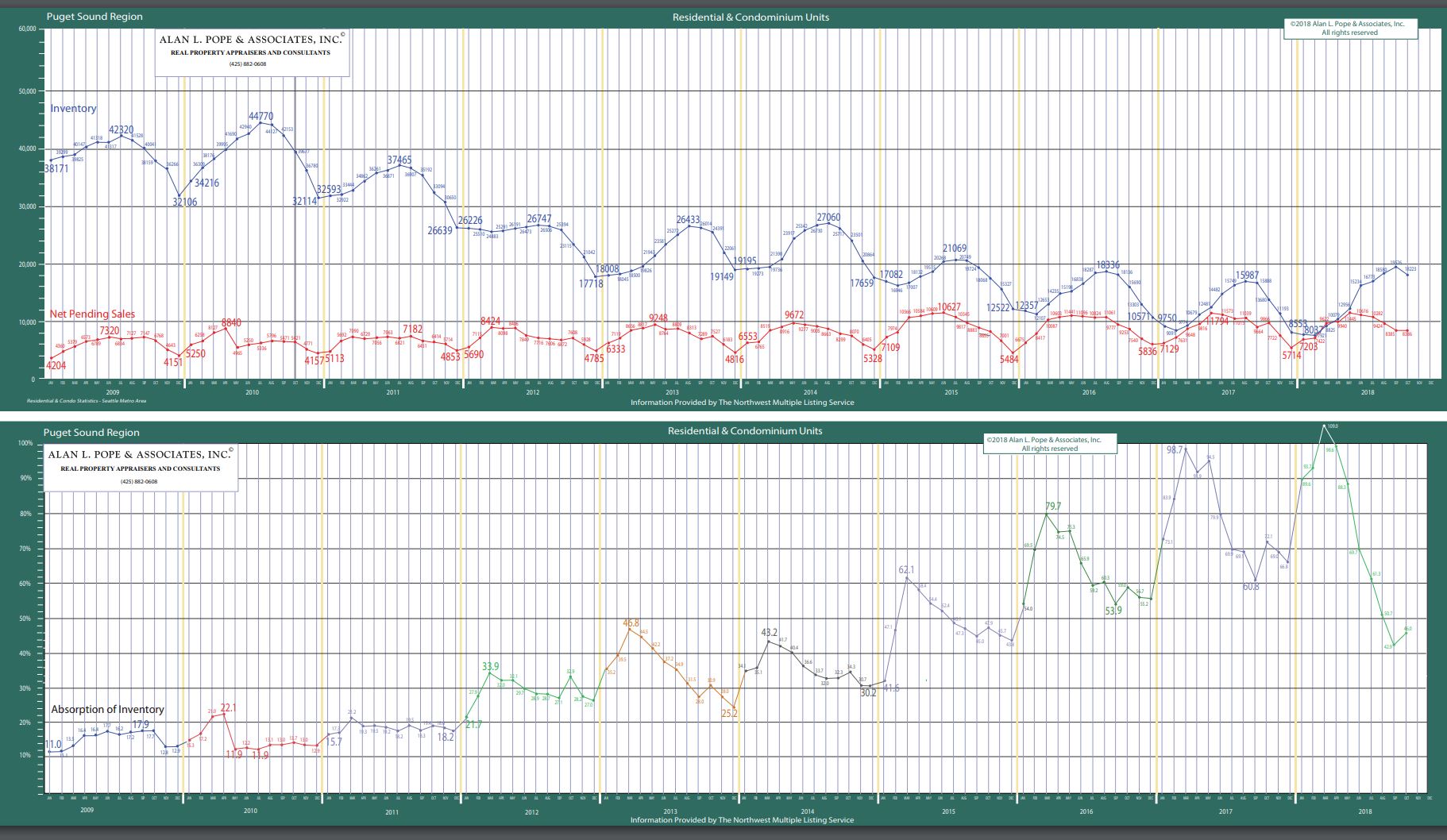 What you want to pay attention to in the attached eye chart of a graph is the bottom graph and how every winter (December) for the last 10 years, we see a dramatic slow down in sales.
So yes, the rate of appreciation has slowed in the Seattle area since May 2018. 
But, we also see a slow down in transactional sales every winter.
Put them together and it seems more dramatic and remember we had quite a run up of prices over the last 5 years.